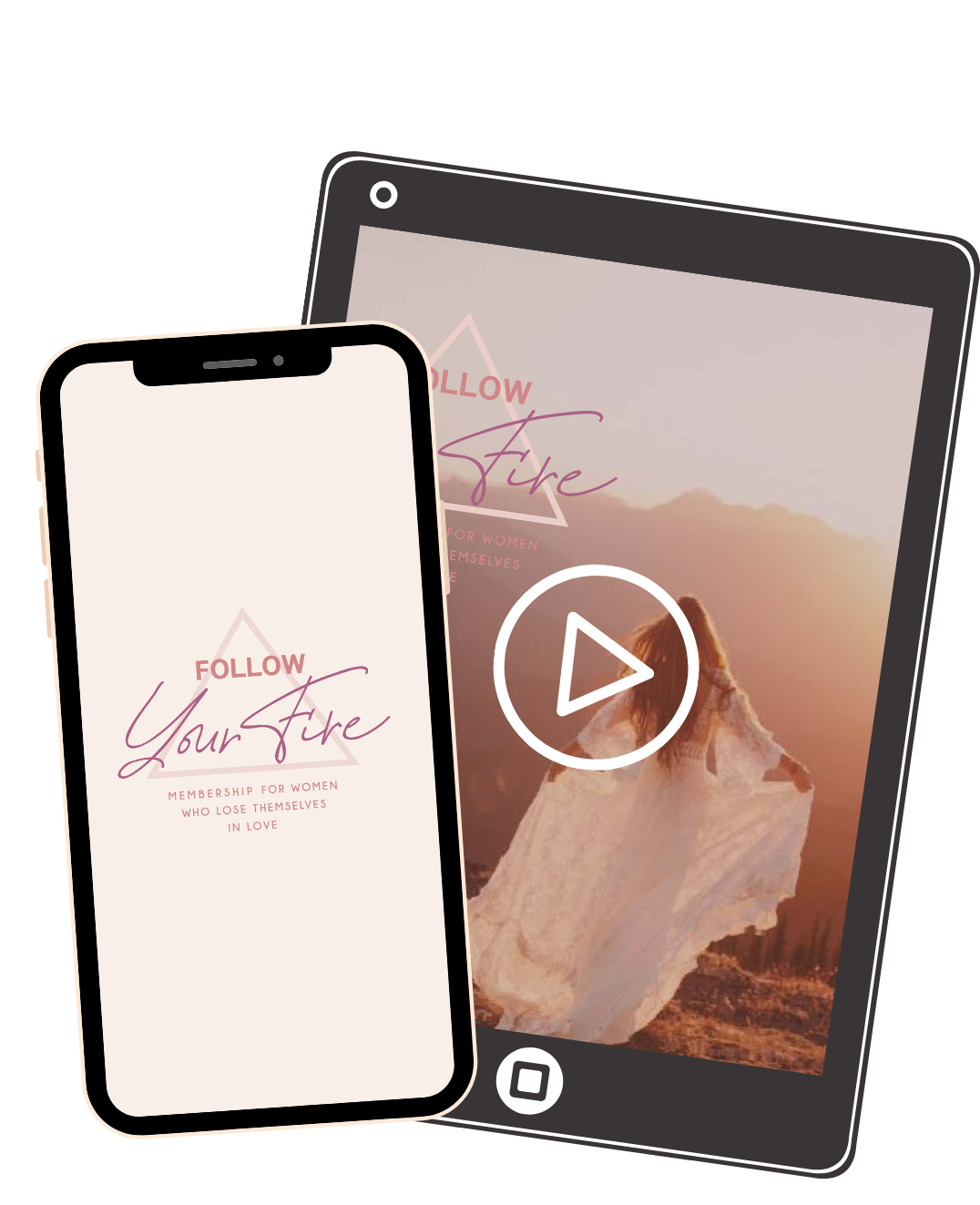 Welcome to your cosy, unique, & transformative corner of the internet!
Do you need a space where you can receive guidance, clarity, & answers when it comes to your love life?
Look no further.
Follow Your Fire is a pay monthly membership that is here to help you feel supported, held, & understood through the confusion & pain that love & heartbreak can actually bring.
Most importantly, it is a carefully designed space to help you find strength, confidence, and motivation from that pain & confusion. This is where you get up off the cold hard ground!
When you reach the point where you are willing to do what it takes to break free from painful patterns in love, Follow Your Fire is the first step to showing your SELF, your inner critic, and even the universe that you are serious when you say you are done with losing yourself to love!
Not sure on where to start? Start by joining us inside this membership!

You are officially invited to a brand new private membership, created for women who lose themselves in love.
You lose yourself in love when you:
Still thinking & obsessing about your ex/crush
Unable to enjoy the early phase of dating because you are expecting the worst
Blame yourself because you can't get past date 2
Believe everything would be ok if you had someone.
Worry about time & people running out.
Are too afraid to date because you don't want to get hurt.
Push people away through self-sabotaging behaviours.
Get nervous and anxious when your partner goes out or wants space
If you have been falling into the trap of people pleasing, accepting crumbs, and giving all of your, time, energy and soul to the relationships in your life... Welcome Home!
Each month, members receive LIVE workshops with me (you can see the themes for the next 3 months below), healing practices, journaling therapy, space for individual coaching, plus access to inspiring experts to help you navigate your way back to a healthy kinda love (starting with yourself).
Love can play the role of your deepest desire & Greatest Fear – Inside Follow Your Fire – you are going to find your way to your intuition, your inner worth, & true desires; because these are the ingredients to bring you home to your SELF.
I wanted to offer something BIG to anyone who signs up before April 1st - so those of you who are READY, you will get exclusive access to a 4 week course that is all about your needs! - this is a HUGE step towards a secure relationship. If you want to to know more about the course, check it out HERE

Now listen, whether you are here because your anxiety is pushing your partner away, you have been broken up with, you have been single for years, or because you have currently lost your head to the person you are dating, or you are terrified of being alone - I've got you.
If you are on your 7th attempt of 'no-contact', if you are stalking their social, if you keep reaching out (drunk!), if you have allowed them back into your bed, if they have gone quiet on your (again!), if you are struggling to enjoy dating, or if you are jealous of that other woman - I've got you!
Right now you might be feeling desperate, lonely, determined, fierce, anxious, scared, confident, purposeful, or a mixture of all of them - I've got you!
They may be different scenarios but the pain, the cause, and the formulation is very similar. Driven by your beliefs, your experiences, and your own self-image - you find yourself here. Where I once was.
Relationship anxiety is real, and I have created a safe, cosy space of the internet for you to take back your control & become the leader of your love life!
IMAGINE THIS
Through the power of understanding your emotions, your attachment, & your own personality, you are going to learn:
- How to break the agnosing cycle of relationship anxiety so that you can love love again!
-How to trust in your self & your love life by moving through the challenges that come inside dating & relationships
- How to include extraordinary, abundant, & magnetic forces into your love life
-The inside-out approach of Self-Love using my unique Mind-Body-Soul-ABUNDANCE method!
-How to inject the joy back into your love life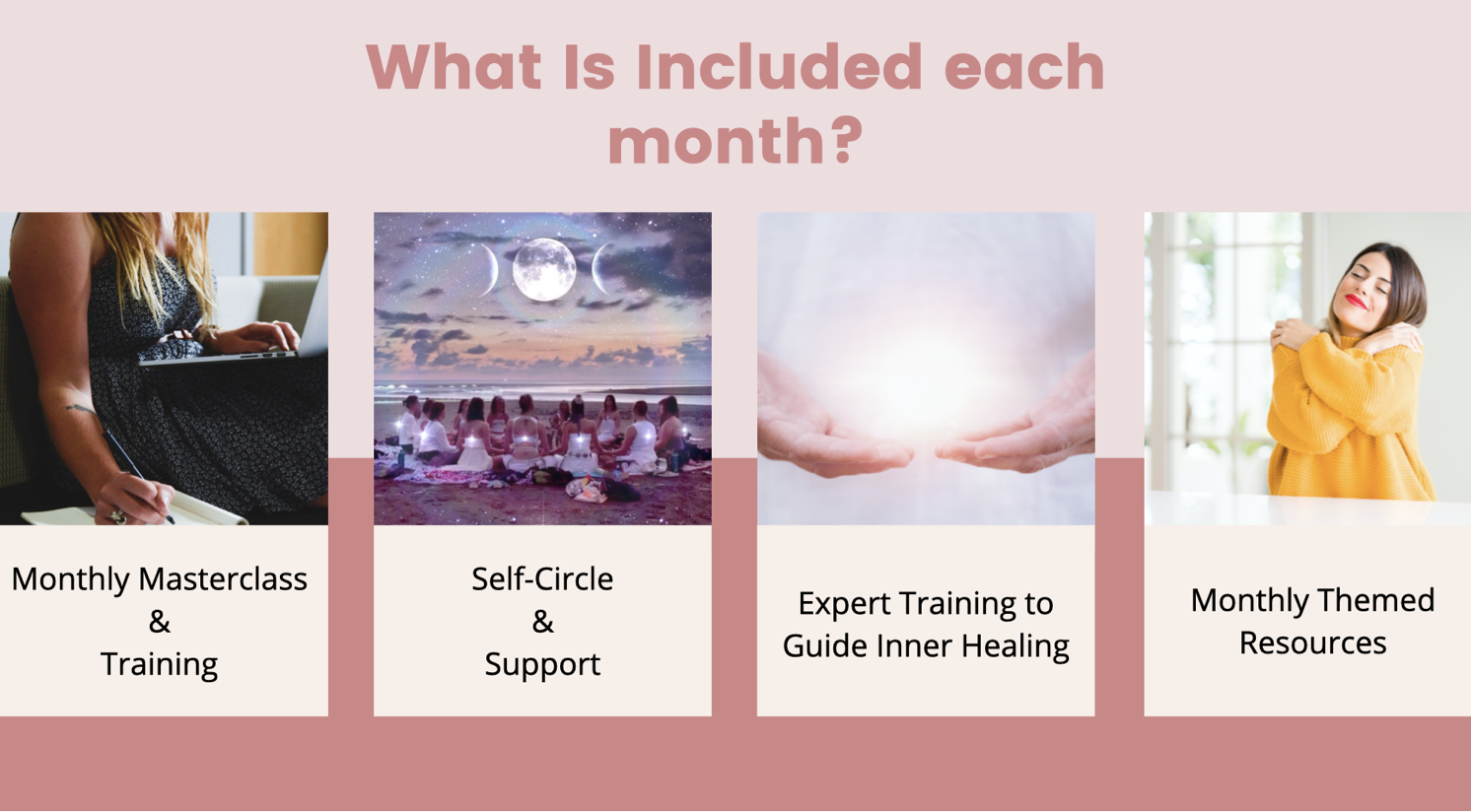 THE MISSION OF FOLLOW YOUR FIRE
"Following Your Fire" is a simple term that refers to creating something BIGGER so that you never lose your SELF to love again.
The mission for Follow Your Fire (The Membership) is to provide the space for the next phase of your transformation, for when talking non-stop to your friends, youtube videos, and self-help books are no longer cutting it.
There is a moment when you are WIDE AWAKE to your painful love patterns where you are DETERMINED this time you are done.
You are ready to show this person, the world, and most importantly your SELF what you bring to the table.
I do not mind if you are here so that you can show someone you are the best thing they never had, I assure you once you step inside, you will be doing this for you, and only you!
My mission is to help you overcome your relationship anxiety and fear of singlehood, so that you can finally feel whole by yourself.
If your love life has you feeling lost, confused, desperate, and determined (yup all at once), then join us inside for one unique membership that combines healing, dream catching, purpose creation, and personal development.
You are ready to rise!
Ahh I know that feeling and that is exactly why Follow Your Fire is here for you right now!
WHAT'S INCLUDED
Every month we dive into a specific key theme that is going to see you bloom in life & love. We will be diving deep into opening your heart to abundant love, Beating Relationship Anxiety, Connecting with your irresistible feminine powers, Detoxing your mind & body from your ex & unavailable love interests, Dating with Confidence, Stepping into your emotional power, & much much more!!
You can consider yourself part of a supportive, thriving community of cheerleaders who are also determined to become the leader of their love lives! You are going to be guided to make intuitive choices, and create a life that that stops you getting lost in love!

Each month consists of a theme that has been deeply thought out to help you heal you inner world and relationship difficulties, so that you can be guided and held as you move through this transition period in your live.
Look at this as being the key to ignite your personal development routine, healthy relationships, & a life that lights YOU up!
---
Monthly Masterclass & Training
You'll be provided with monthly Masterminds (up to 2 hour work-shops) to help you elevate your thoughts, stand in your truest power, hold firm in the most empowering & attractive standards, and finally, come home to your SELF.
There will also be regular ad-hoc training (think Sunday Self-Session but the topics will be decided by YOU).
---
Monthly Themed Resources
At the beginning of each new month, you will be given a workbook to compliment the current theme, you will have digital workbooks that include bonus resources (podcasts, meditations, book recommendations, playlists etc!). They will also include journal therapy prompts to help you reflect on the previous month
---
Self-Circle & Support
Each month you are invited to come and hang out in the exclusive Self-Circle which is a space for you to be heard, get support on your specific situation and build relationships & accountability with other members of Follow Your Fire.
---
Expert Training & Guided Inner Healing
You know I am all about that healing and dedicated to inspiring you to be your most secure, irreplaceable SELF. I will be inviting in inspirational & handpicked guests & experts to help bring you unique guidance on how to unleash your full potential and become the leader of your love life.
---
Anything Else?
You will also have access to a private support group, early-bird access (& prices) to Carly Ann's programs, Workshops, & coaching.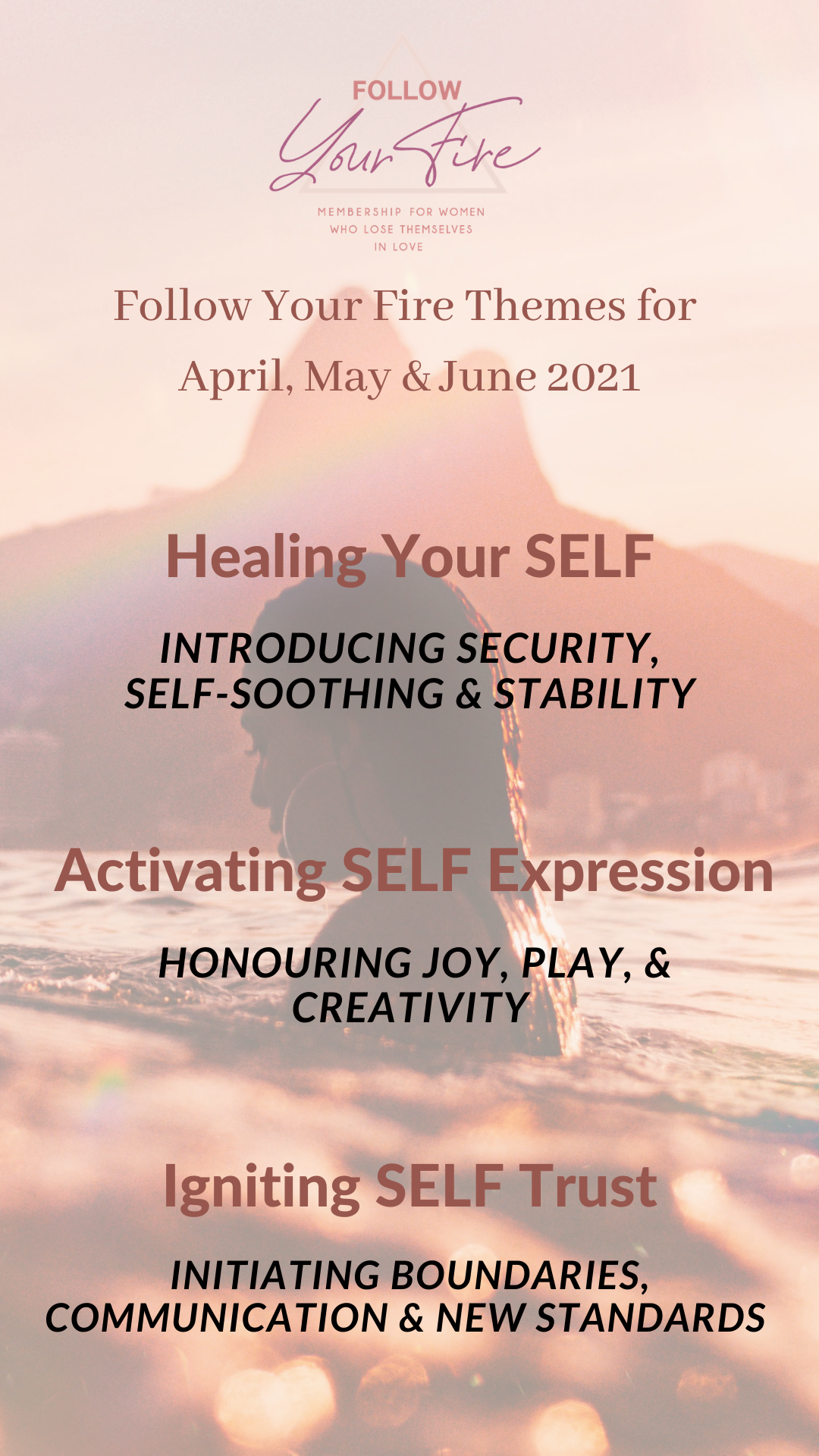 Each month will be dedicated to a deeply considered theme. You will have private access to trainings, workshops & expert advice on each area. Every theme is designed with your dating & relationships in mind.
So that you can unblock your energy centres, re-parent yourself & experience extraordinary love!
Your Instructor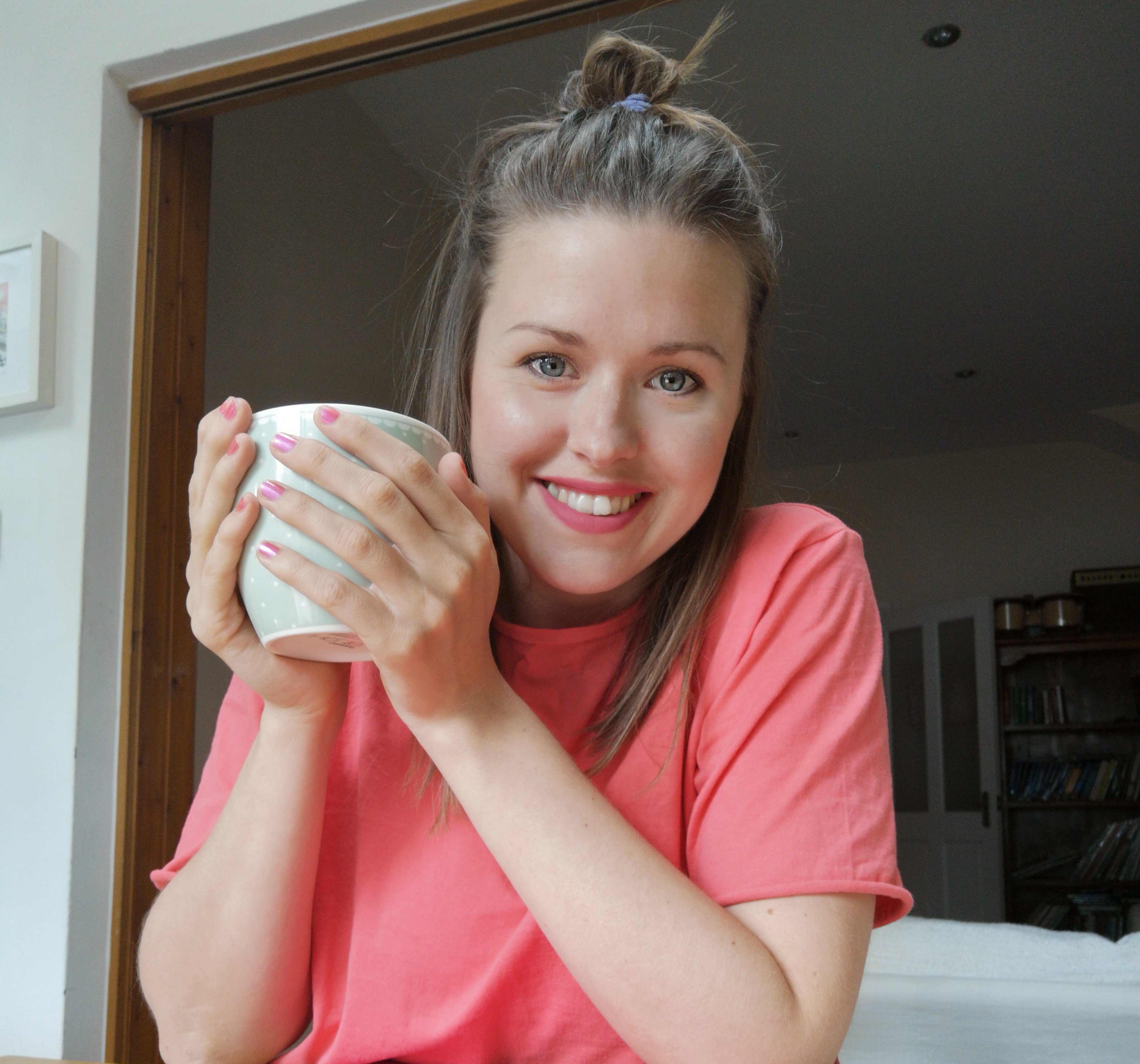 Carly Ann is a Self-Esteem & Relationship Coach, Podcaster, and Recovering Anxious Dater who is passionate about helping other women reclaim their worth in life & love.
Determined to put an end to you feeling 'too much', 'crazy', or 'needy' by giving you the inside scoop on why love makes you feel that way and how you can break free from people who enhance your insecurities.
Whether it is through her Podcast (Lessons in Love), free workshops, or private coaching, Carly Ann helps you go from insecure, anxious, and losing yourself in love, to feeling complete by yourself, totally irreplaceable, and standing in your power as the leader of your love life.
WHAT ARE PEOPLE SAYING ABOUT CARLY ANN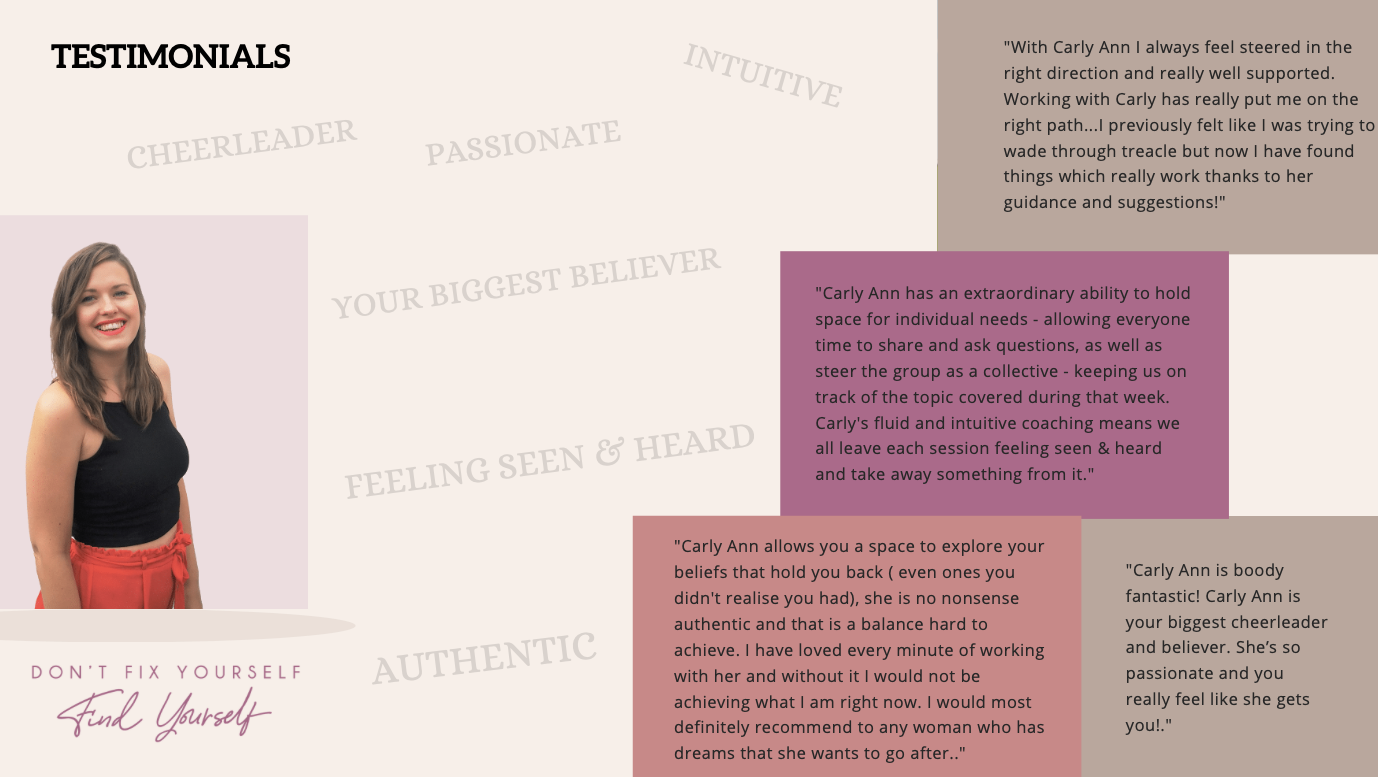 Course Curriculum
Welcome to FOLLOW YOUR FIRE (The Membership)
Available in days
days after you enroll
APRIL 2021 Heal Your SELF
Available in days
days after you enroll
MAY: Activating SELF Expression
Available in days
days after you enroll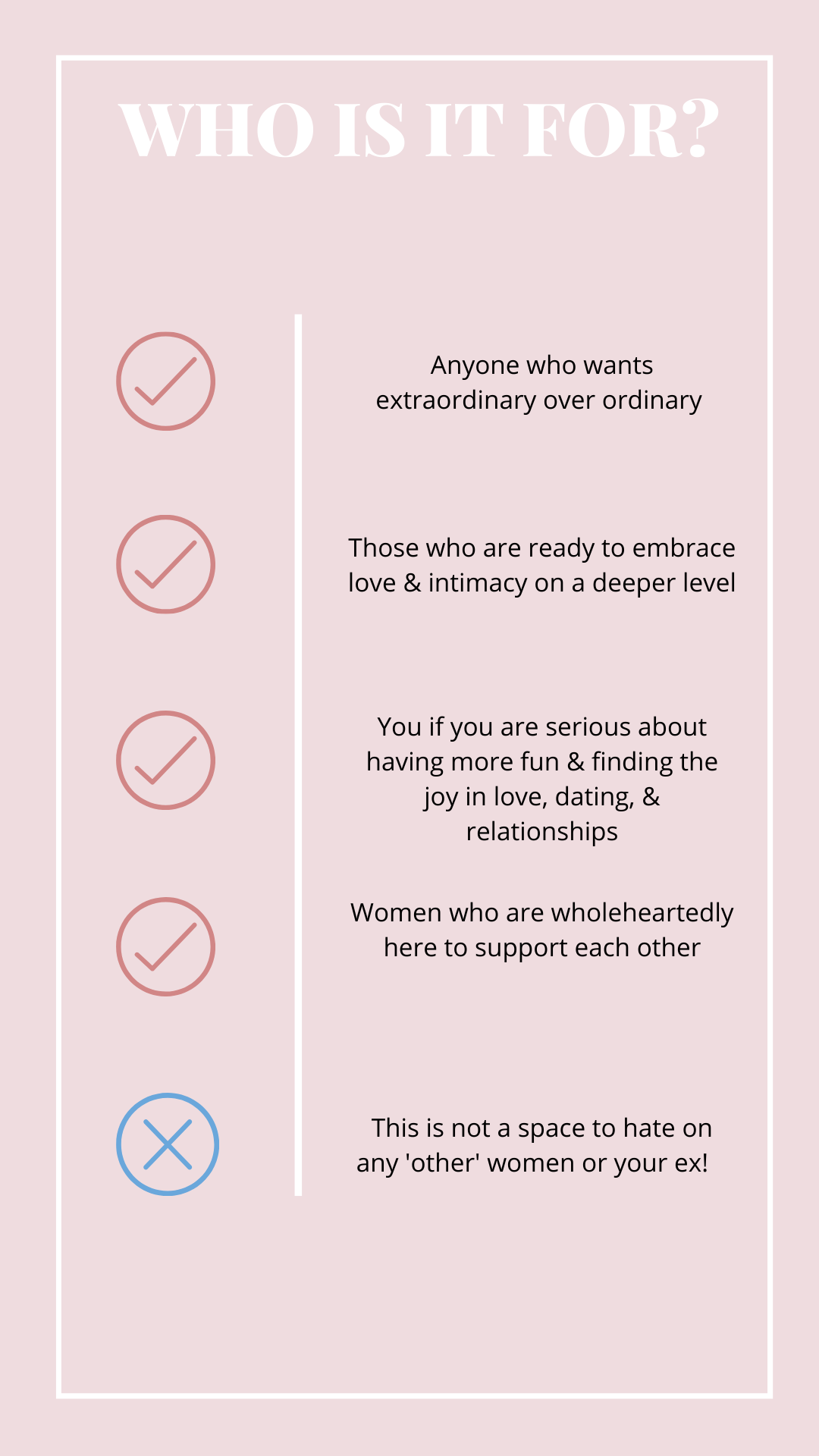 Frequently Asked Questions
How much Does Follow Your Fire cost?
If you become a member before the 1st April 2021 it is £27 per month
You mentioned a course if I join before 1st April?
Yes! I wanted to give a GREAT reason to sign up before the 1st of April, and so I decided to give you LIVE access to a four-week coaching course 'How to Choose A Relationship That Meets Your Needs'. That means you will be on the course LIVE with Carly Ann & have the chance for coaching & for LIVE Q&A.
Can I cancel at any time?
Absolutely! The whole point is for you to become the leader of your love life & your own biggest cheerleader, until then, you can count on Follow Your Fire!
Will there be replays available for trainings & Masterclasses?
Yes, all training & Masterclasses will be saved & uploaded - super easy for you to find and watch in your own time! Self-Circles are not recorded because I want you to have a safe space to be heard
Do I have to have Facebook?
Nope. The membership is held inside a platform called Teachable. There is a Facebook group for anyone who wants to expand their connection.
How will I know when the trainings & Calls are?
You will be able to access a calendar for each month within the private Facebook group and your Follow Your Fire member dashboard. There will be bonus calls too, but that's a bonus thing :)
Can I get a refund once purchased?
There are no refunds because you have immediate access to Follow Your Fire once purchased.