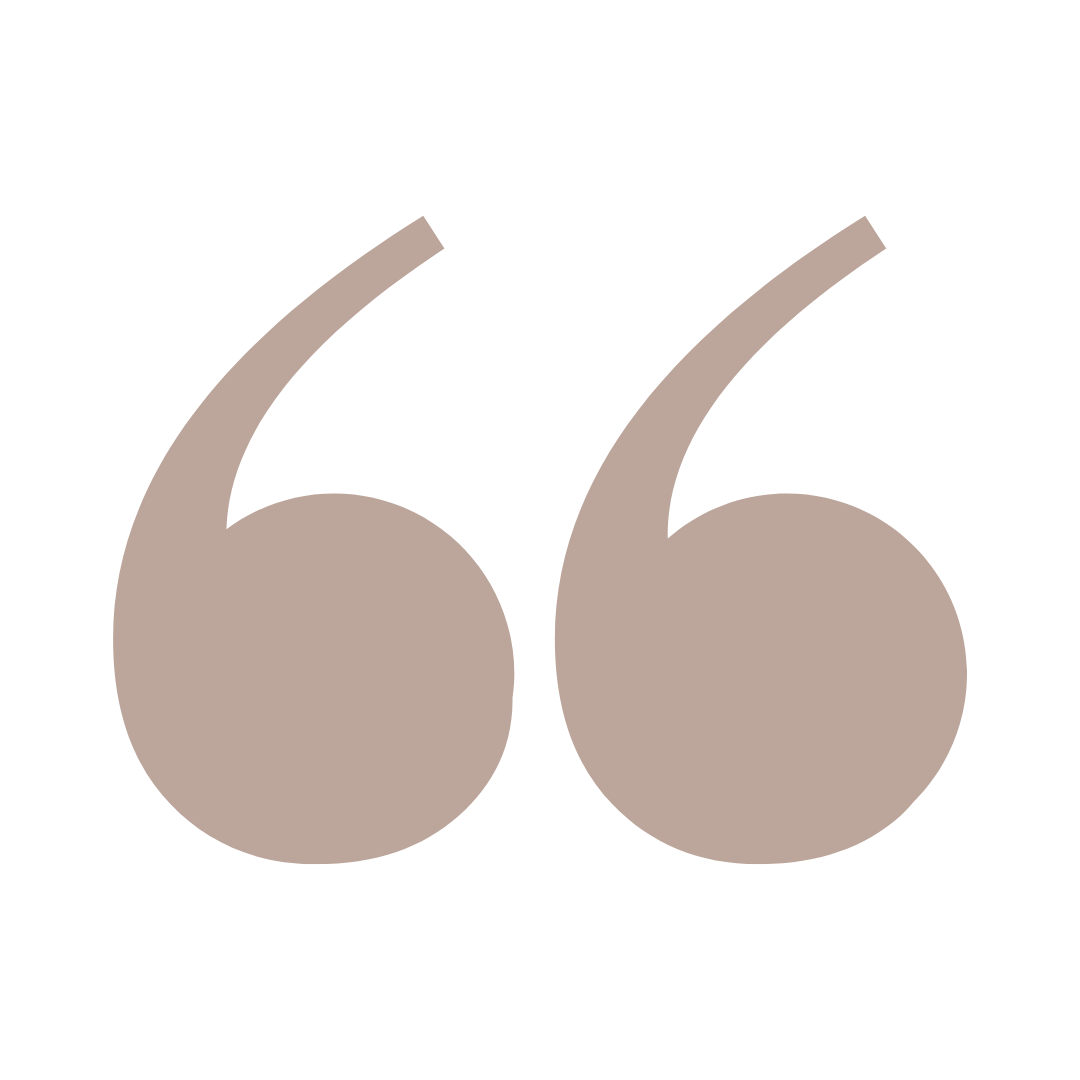 "The woman who knows no worth & deems herself replaceable, will live a life of jealousy, insecurity, & anxiety. The woman who knows her worth and deems herself irreplaceable will live a life of happiness, satisfaction, & resilience"
Are you ready to finally put an end to painful relationship patterns, stop giving your time & energy to anyone who us unavailable, and quit lowering your standards when you know you want more?
Are ready to bust through the limiting beliefs that keep your love life from flourishing, and overcome the fear that keep you from realising how truly irreplaceable you are?
You are in the right place.
It is time to end the self-sabotage, quit down-playing the kind of love you desire, and create a whole new vision of what love looks like for you.
If so far you have not managed to invite in the kind of love or live the single life you dream of - it is because something needs changing.
This 8 week group coaching programme is going to be delivered to you by Self-esteem & Relationship Coach Carly Ann.
Carly Ann has developed Becoming Irreplaceable because I want you to stop standing in your own way when it comes to your love life an relationship with yourself.
You do not need to be 'fixed' or have your s**t together to find joy in your relationships - not at all. You simply need to discover what makes you YOU, and then be willing to show up as her - as the highest version of your self that knows what she wants and is not going to settle for less - not any more.
Over the 8 week you will go from doubting your worth, self sabotage, insecurity, and being stuck on your ex to being the most confident, open hearted, excited about love, high-bike, irreplaceable version of yourself!

The only way you are going to feel uniquely confident when it comes to your love life is if you begin to embrace who you are and what makes you a great partner.
On this program you are going to learn 8 principles to Becoming Irreplaceable to the right person.
For anyone who is ready to let go of past relationships, find yourself, stop losing yourself to love, & quit putting your happiness in the hands of anyone else.
There are certain beliefs, emotions, & behaviours that are keeping you stuck in the same place when it comes to your life life.
Together we break them down so that you can awaken the part of yourself that you have forgotten about because you yearn so deeply to be fancied, loved, and finally chosen.
We are going to clear the blocks, and then you are going to head into the world with a core confidence that a healthy, passionate love is on it's way.
- No more feeling or acting needy
- No more fantasy relationships
- No more worrying about being alone forever
- No more letting yourself down
- No more wasting your time and energy on anyone who does not see you
- No more self-rejection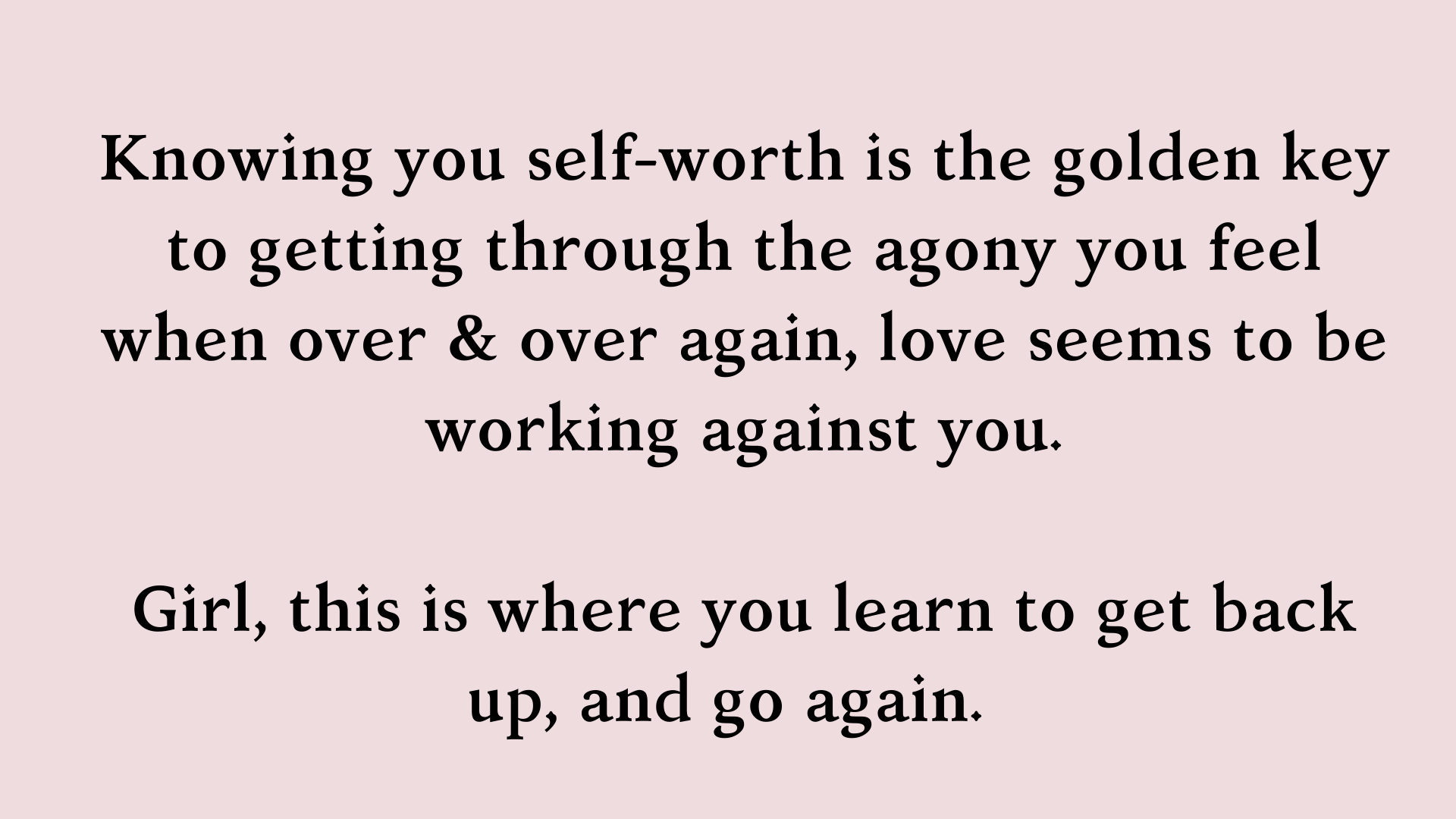 When it comes to your space on this Earth & your real, respectful relationship, there is not other person who can do it quite like you, you are irreplaceable.

The only reason you don't feel that way, is because along the way, you lost who you are and what you are capable of.

Right now, you are not leading; instead your fears & your wounds lead the way.
Something has brought you here and I'm delighted, that together, we can celebrate the fact you are "waking up". You are rising.
You are ready to lead.

Rest assured, it is never to late to take back control of YOUR love story.
I have been the girl who allowed my inferiority complex to put guys on a pedestal, to hide my needs, and to think I needed love to feel whole.
Too many "heartbreaks" finally led to my moment.
It is now my mission to help you find freedom from unavailable relationships, lowering standards, giving too much, and loneliness. So that you can reclaim your energy, know your self-worth, radiate inner confidence & open up to real love.
I have walked the walk, so let me lead the way
---
BECOMING IRREPLACEABLE is the eight week group coaching program is ideal for you if:
- You are still holding onto and still controlled by someone from your past
- You keep sabotaging love because you are scared you will get hurt again
- You push your partner away with your insecurities
- You are so afraid of being alone, you would rather have anyone than no-one
- You believe you just need to find "the one" and then you will be OK
Feeling IRREPLACEABLE is simply the inner knowing that you are strong enough to be vulnerable in love, to be yourself, to be alone, to walk away, and to handle any heartbreak that ever comes your way.
*I encourage you to pause right now, and imagine what it would mean for your love life if you knew just how irreplaceable you are.
I have created this online course because I wholeheartedly know what it is like to feel like you have your s**t together and believe you can overcome this yourself. Yet, I also know the power of your self-protection. Those of us that fall into these patterns over and over again, simply learned to protect ourselves. As you will learning inside this program, although it is painful, the pain is an unhealthy form of self-love.
It is why you repeat the same pattern, why you keep thinking this time will be different.
Until we choose our future over our past, we keep finding ourselves in the same spot.
---
Whether you are determined to make your current relationship work, or you are ready to let go of the old, you deserve to be happy. True satisfaction only happens when you know your SELF and begin to live your life from a place of abundance, love, & creativity.
In these eight (ten!) weeks, we hold space for people who are serious about becoming the leader of their love lives.
Are you SERIOUS about having a serious relationship?
Are you SERIOUS about letting go of who no longer serves you?
Are you SERIOUS about letting go of what other people think of you?
Are you SERIOUS about making an 8 week commitment to yourself?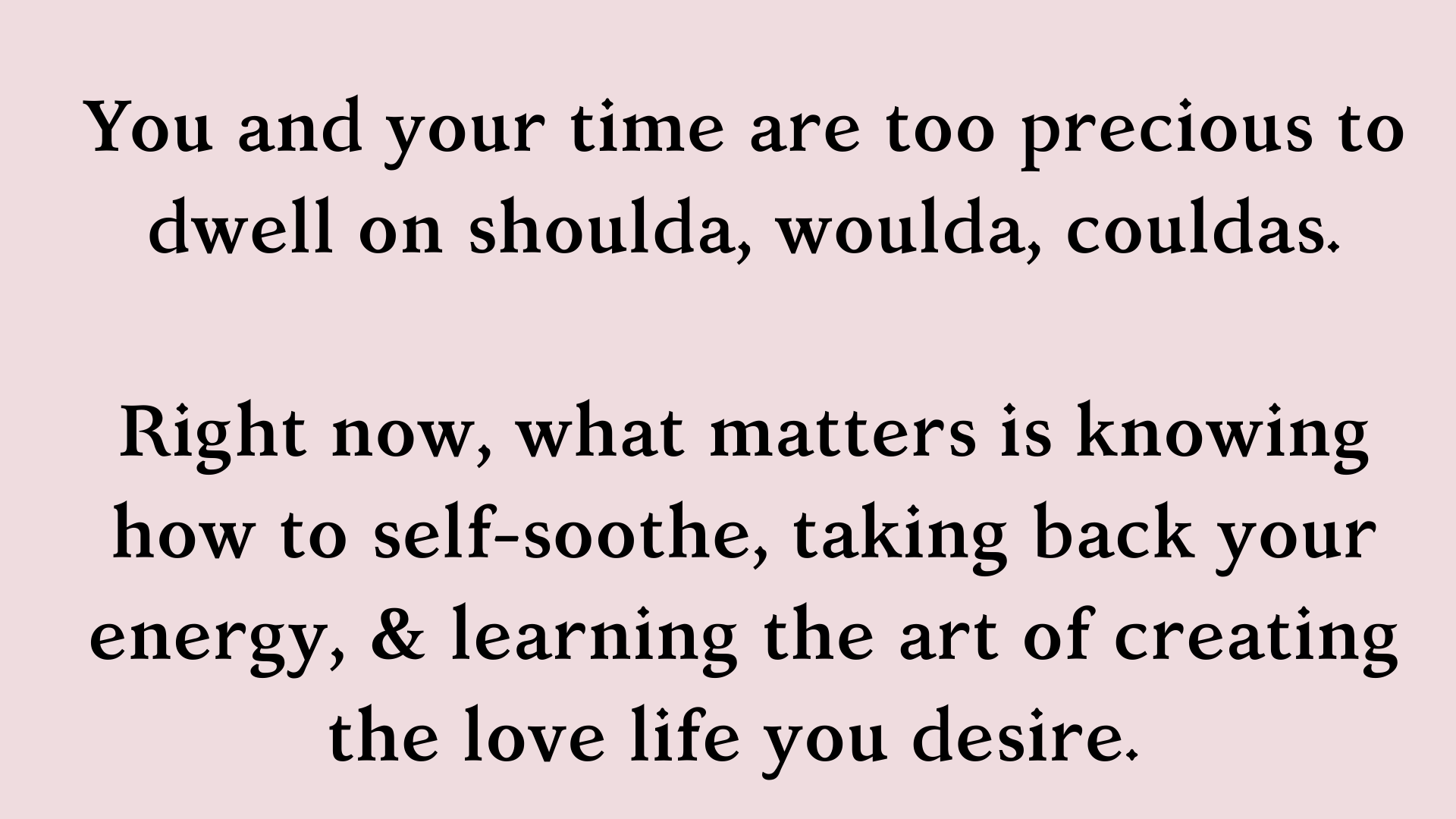 Life is tough enough as it is, it is not necessary for your self-doubt and your ego to add to your stress; by telling you that you are less than, telling you that no one is going to love you, that you will be alone forever, and forcing you to give all of your power, time, effort, & love to someone else, especially when there is no return.

Now don't get me wrong, you can give a whole lot of love, but the irreplaceable woman does not, and will not give her soul.
Your soul is yours. That is the bottom line. Your new found boundaries, will protect your soul, yet give you the courage to be vulnerable, open, and fully YOU. That is how you have the kind of love you say you want.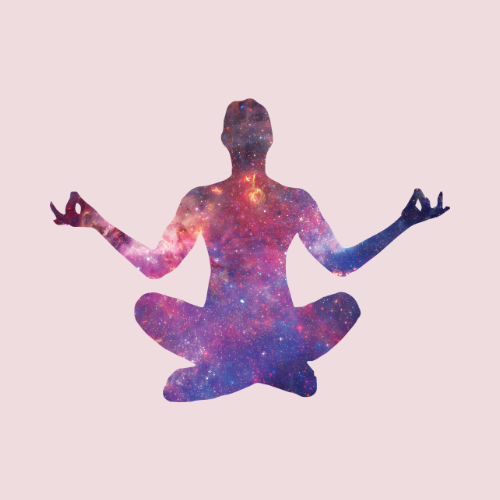 "What I gained from the program is firstly, not allowing an ending relationship to impact my self worth; knowing that the two things are completely separate.
Secondly finding more joy in doing things by myself rather than waiting for someone else to do them with
Carly Ann is bloody fantastic! Carly Ann is your biggest cheerleader and believer. She's so passionate and you really feel like she gets you!"
- Kate, Becoming Irreplaceable founding member 2020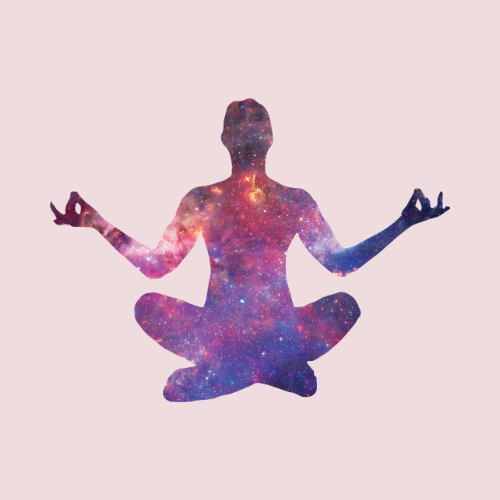 "Investing in myself was scary. I had never done it before and was even skeptical about what I would gain. Finishing the course, it's jam packed with resources, tools, a supportive place to share, and individual coaching - definitely worth the money, go for it!"
- Sam, Becoming Irreplaceable founding member 2020
This program is specially designed for women who desire to be more than just her relationship.
Perhaps, up until this point, it hasn't felt that way; you have a history of attracting unavailable partners, putting people on a pedestal, crushing really hard, feeling insecure & jealous, and you've had a string of disastrous relationships.

You are capable of having a healthy & committed relationship, at the very same time as building up a sense of wholeness, completeness, and happiness from yourself first – it does not have to be one or the other.
That is what this group coaching program offers.
Goodbye to the girl who bases her self-esteem on the latest rejection, and a big BIG hello to the secure woman that manages upset with grace & elegance.
Not only will these 8 weeks detox you from the old toxic habits in love, but it is going to give the easy-to-apply approach that is going to help you understand why you keep finding yourself here, and teach you how you can break free from this cycle and create the lasting change you keep looking for.
YOU ARE NOT "CRAZY", "TOO MUCH", OR "TOO NEEDY"
You blame yourself and think you are the reason you have these relationship issues. That is not what I see.
"Most people are only as needy as their unmet needs"

You experience life-changing results by working through the emotional turmoil leftover from failed relationships, family issues, low self-esteem, and outdated ways of thinking.
It is your birth given right to feel irreplaceable in every aspect of your life.
Do not be controlled by a broken heart, insecure attachment wounds, relationship fears, and low self-worth.
By the end of this program, you will have stopped allowing past experiences get in the way of your future.
Yes, you will still value relationships, but you will also be determined to create a whole life that lights YOU up.


This is not just you. This is a product of your past and the subconscious patterns you are not even aware of…yet.
Once you make this commitment, you will be surprised how simple this journey will be.
Give yourself 8 weeks; begin your journey to more satisfying & secure relationships with yourself and others!



What will the 8 Weeks look like?

Coaching: The whole program is going to give you direct access to being coached by Carly Ann.
Mastermind: The 8 weeks consists of 8 LIVE workshops that will take place over zoom, with replays easily available if you cannot make it.
PLUS – 2 BONUS WEEKS
Cheerleaders: The bonus weeks will give you the chance to meet your team of CHEERLEADERS, be given incredible pre-work to strengthen your commitment, & perhaps most importantly, give you the chance to implement what you are learning!
Real life assignment & embodiment tools: Your transformation comes from intentional action. It is important that you put this into practice whilst you have me by your side!

Motivational resources & psychological tools: You will get an insight into extra resources and psychological tools that are designed specifically to help human beings overcome obstacles & create long-term, positive change.
Modules & Content: Designed to move you through letting go, healing, opening up your relationship space, breaking down walls, & following your inner fire toward the future that lights you up. (details of modules can be found further down).
Start date: Monday 17th February 2021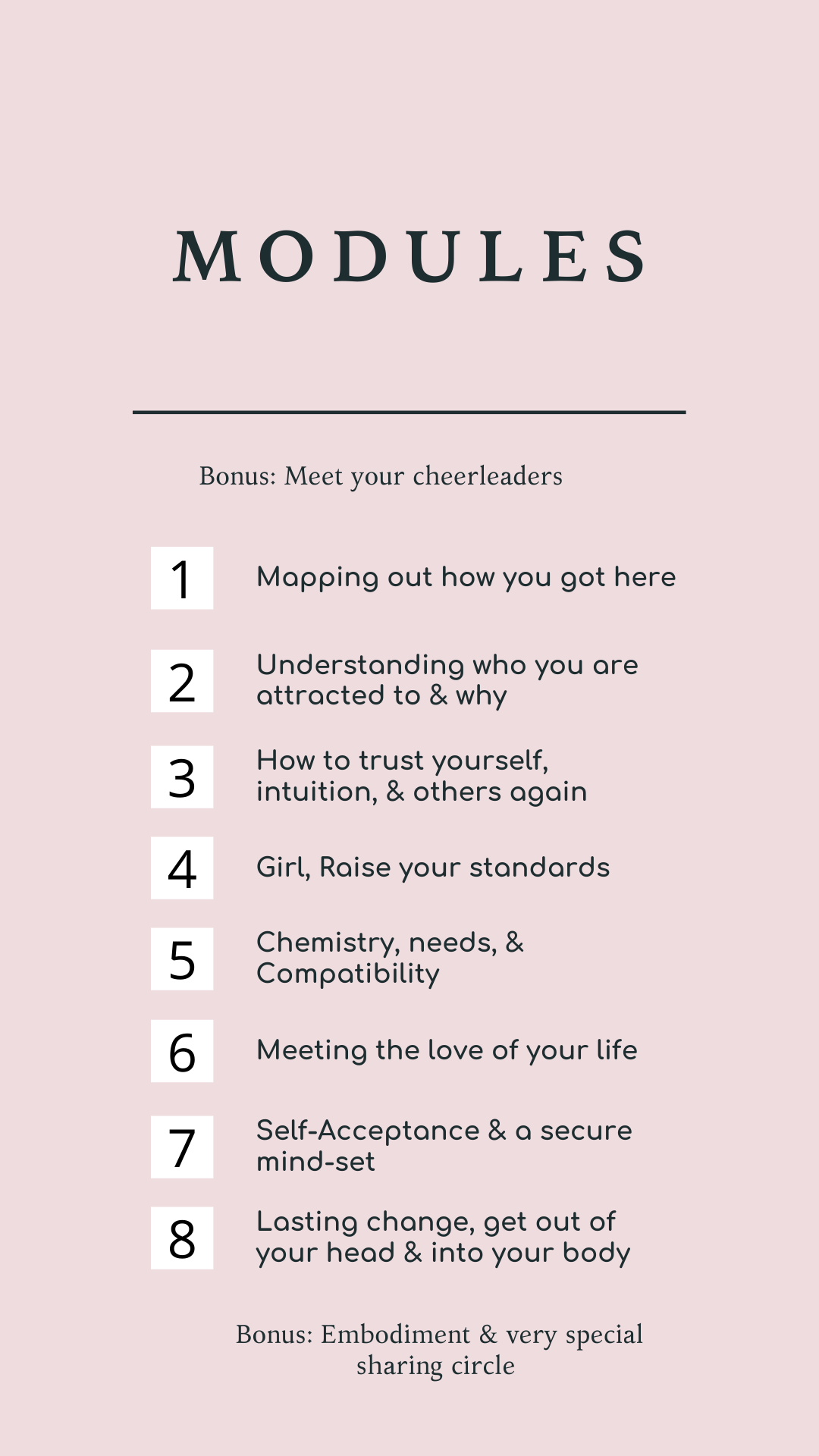 HOW IS THIS DIFFERENT TO OTHER ONLINE COURSES?
With so many courses, books, love caches out there, it can be tough to know which road to go down. I truly believe you will know when you know.
I have created this space because I want you to have credible, impactful, tool that you can use immediately on your journey to Becoming Irreplaceable..


I use my professional background (ten years in mental health & Cognitive Behavioural Therapy) and my own real life experience (I have been at the severe end of these issues), I have developed a very specific way of helping people lead their love lives, I am so proud of it, especially as I witness it transforming lives.
I am passionate about you breaking these toxic patterns such as perfectionism, overthinking, the fear of being alone & giving too much. Naturally you will build self-esteem, a positive self-image that will help you towards your dreams, cultivate closer, more intimate relationships and feel totally irreplaceable.
What makes this course different is that I promise not to sugar coat it, I KNOW how hard it is, and that's why I know how to help you through this phase of your life so that you can move gracefully into your next chapter.
Your Instructor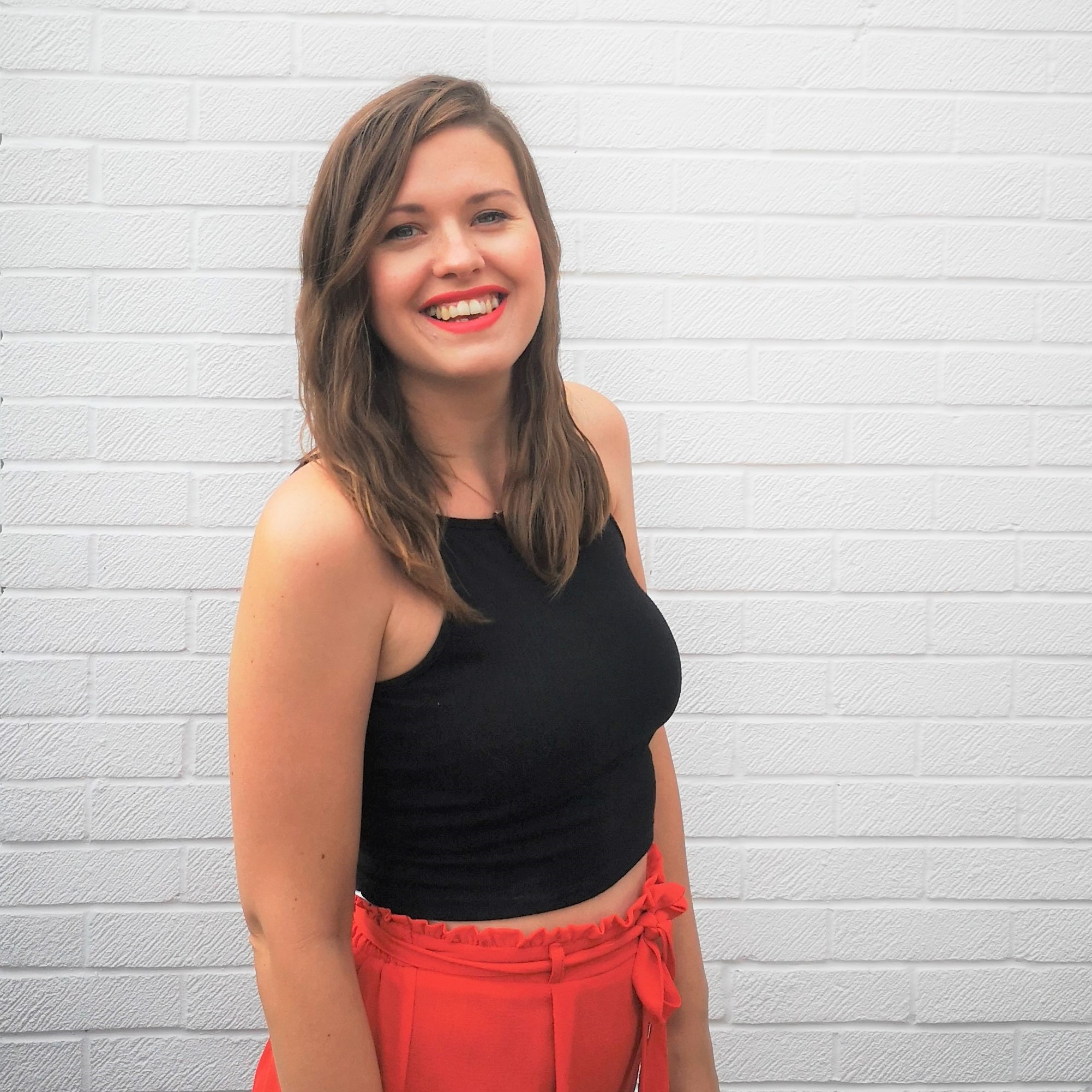 Carly Ann is a Self-Esteem & Relationship Coach.
"I coach women who are on the edge of change and ready to knock down that wall.
It is my mission to help you feel totally irreplaceable in life & love. To overcome insecurity, & quit repeating toxic patterns in love, so that you can find self-acceptance, shine your light, and have the extraordinary, secure kind of love that you deserve."
Join Carly Ann today and discover the tools to let go fo the past, reset your mind, and feel irreplaceable in life & love.