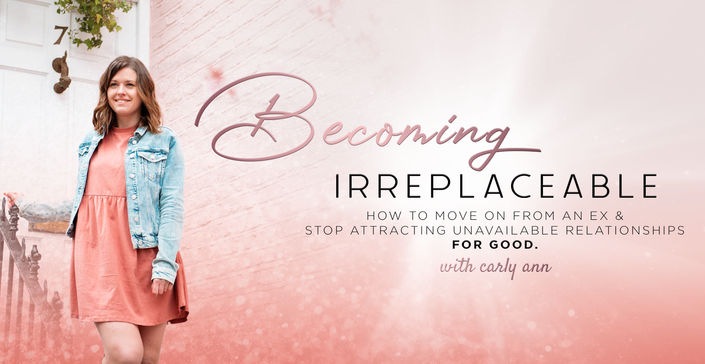 BECOMING IRREPLACEABLE:
How to Let Go of Your Ex & Stop Attracting Unavailable Relationships for Good
Enroll in Course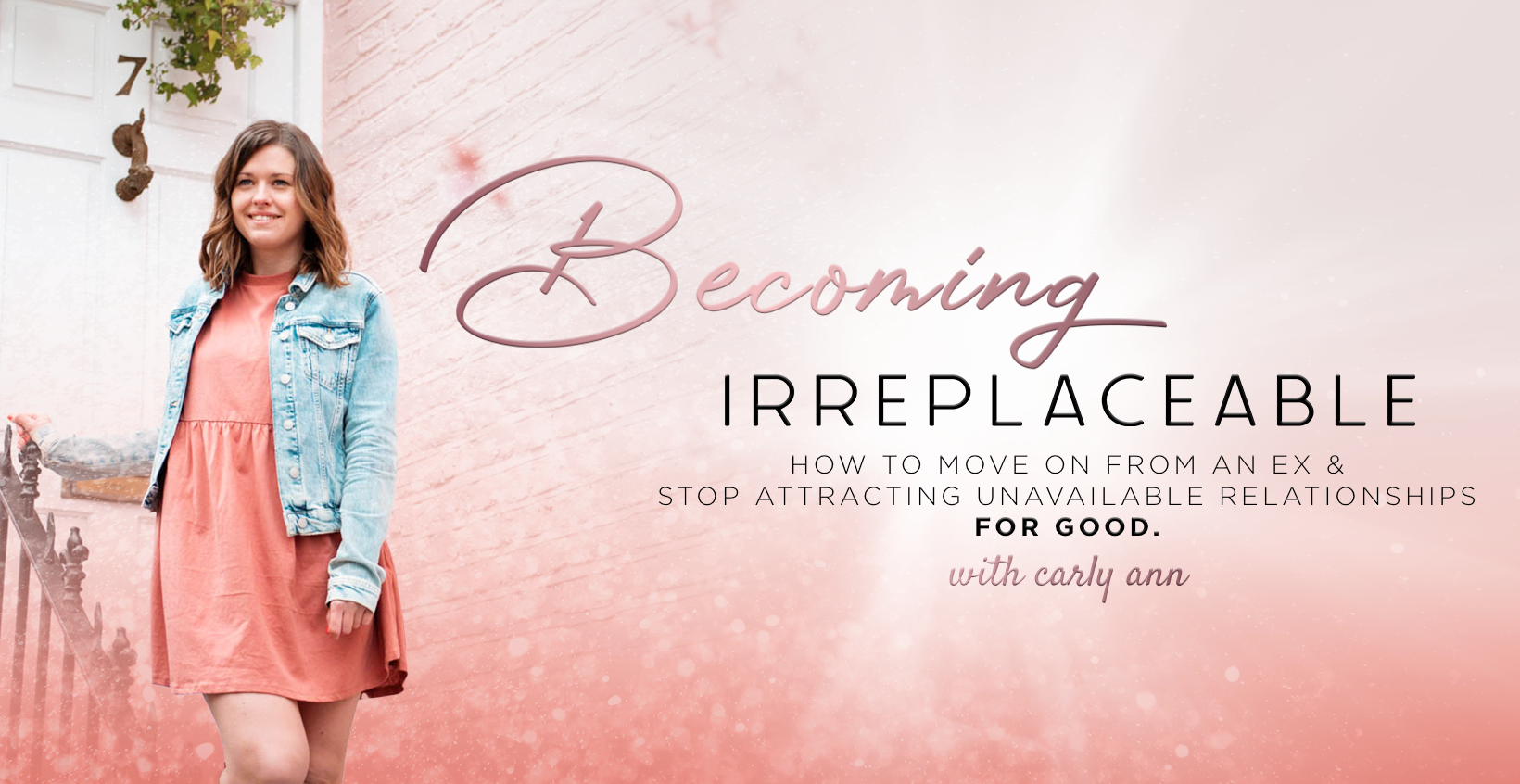 Have you had enough of giving your love, energy, and precious time to
the wrong people yet?

Becoming Irreplaceable is a much needed space & up-to-date blend of the best practices to help you & my clients understand painful relationship patterns & insecurities, so that you can break free from the mind-tricks & old wounds that keep you in the cycle of thinking about an ex and/or attracting unavailable partners.
Whether this is your first time exploring your inner self or you have been on this journey of self discovery & building self-esteem for a while, this is your invitation to find out who you are, awaken your self-worth, and crack the code to:
♡ Activating your secure attachment style
♡ Feeling content & whole within yourself and by yourself

♡ Being attracted to the secure guy instead of the one that keeps you on your anxious toes

♡ Developing a sense of self so you can stop setting for less
♡ Find the needed balance between your head & your heart when they are sending mixed signals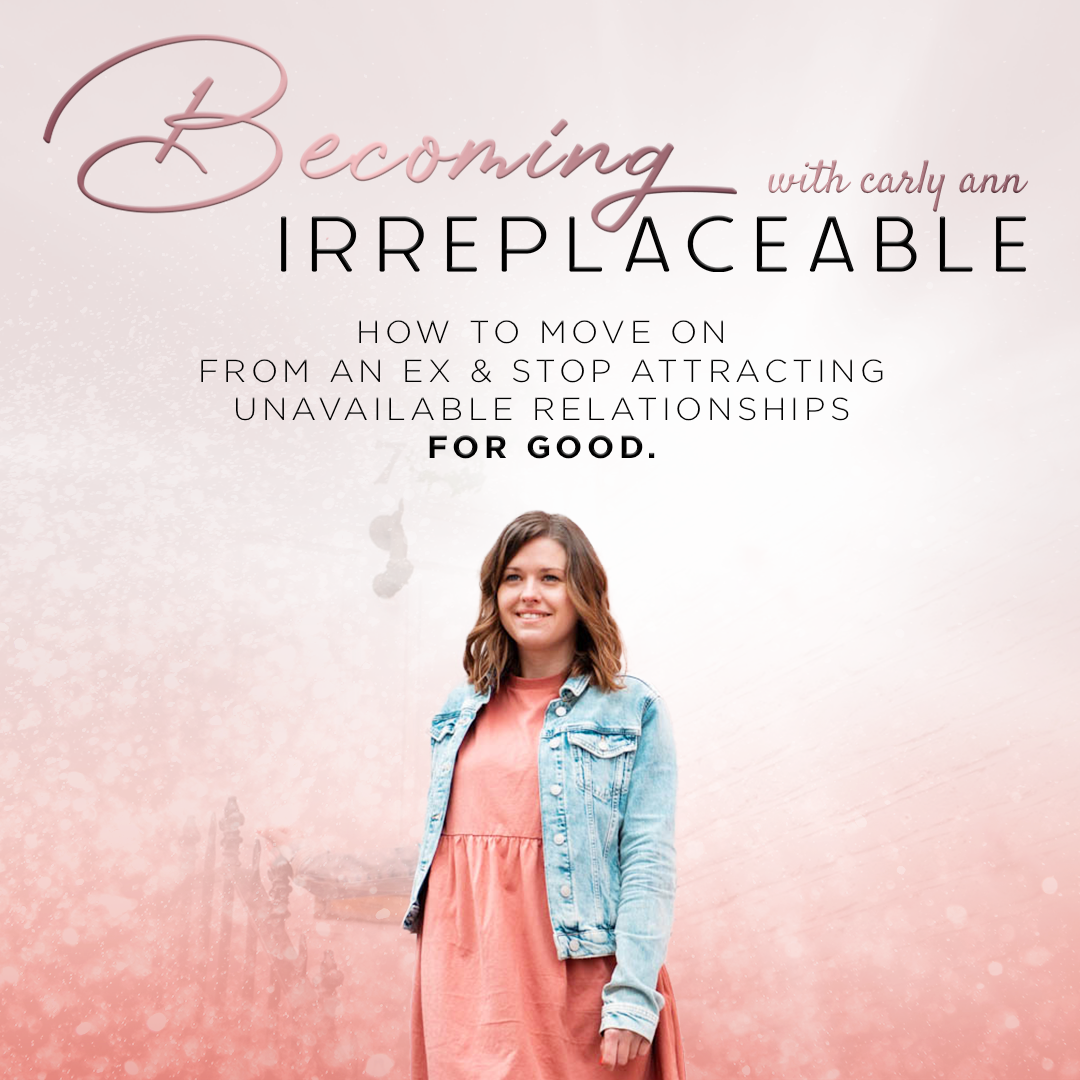 TESTIMONIAL
"I have been thinking about what aspects of Becoming Irreplaceable really helped with me being able to find my available and loving bf! .... Being a singleton for a long time the BI course bolstered my self esteem and helped me to navigate through those rejections and disappointments of dating whilst remaining optimistic. Self belief is key and the BI group with coaching and group support empowered me to define what it was I was looking for, visualise what I wanted, go out there and get it!"
- Sam, Becoming Irreplaceable member 2020
VISUALISE THIS
☾ You finally understand why you are attracted to the unavailable guys, you now have the inside scoop (and personal list) on how to recognise the signs early. Most importantly you can wholeheartedly see they are not on your level (because you desire so much more)

☾ You have let go of your ex(es) and opened the door to something newer, bigger, brighter, and..better!

☾ You have a toolbox of strategies, techniques, and resources that you can use when you are triggered by dating, rejection, your ex, or the new girlfriend.

☾ When you are on your own - you feel so whole that you can spend this precious time on your passions, self-care, and doing what makes you feel more connected - rather than checking their social, wondering what they are doing, and convincing yourself you are destined to be alone

☾ You have a clear roadmap and plan of what to do when fears, anxiety, and loneliness take over - so that you can stop the spiral and bring yourself back to the here and now

☾ You have closed the loop on the need for closure, apologies, and wishing this person would come back

☾ You are on the path to a happy, meaningful, and real relationship with someone who communicates, sees you, and is able to talk about feelings & relationships without turning cold or running away.

Does this sound like the kind of life you want to be waking up to?
If you answered yes, Becoming Irreplaceable is about to be the best HELL YES you ever said to yourself!
BONUSES & RIPPLE EFFECTS
The incredible knock on effects of Becoming Irreplaceable include learning how to quieten the chitter chatter in your mind, loving & accepting yourself, taking risks into the unknown, finding your voice, taking leaps towards passion & purpose, feeling more content in yourself, knowing how to ground and calm yourself, and so much more!!
For the third time, I am running this 8 week one-of-a-kind coaching program so that you can fully connect with the little girl inside you:
✓ That is still attracted to the unavailable guy
✓ That deserves to learn how to love & be loved so she can have something real
✓ That needs healing if you are going to unleash the secure woman you are
✓ That has been hurt time & time again
✓ That takes over when you like someone or experience a sense of rejection

I am going to help you connect with this part of you and retrain your automatic responses using a blend of carefully thought out practices; including cognitive behavioural therapy, intuitive body coaching, shadow work, mindfulness therapy, and inner child work.
I know first hand and second hand through my clients what it takes to stop attracting unavailable relationships & quit doubting yourself in love - and that is why I have created these 8 pillars, and how I have come to decide on these simple yet extremely powerful methods to help you go from insecure to secure.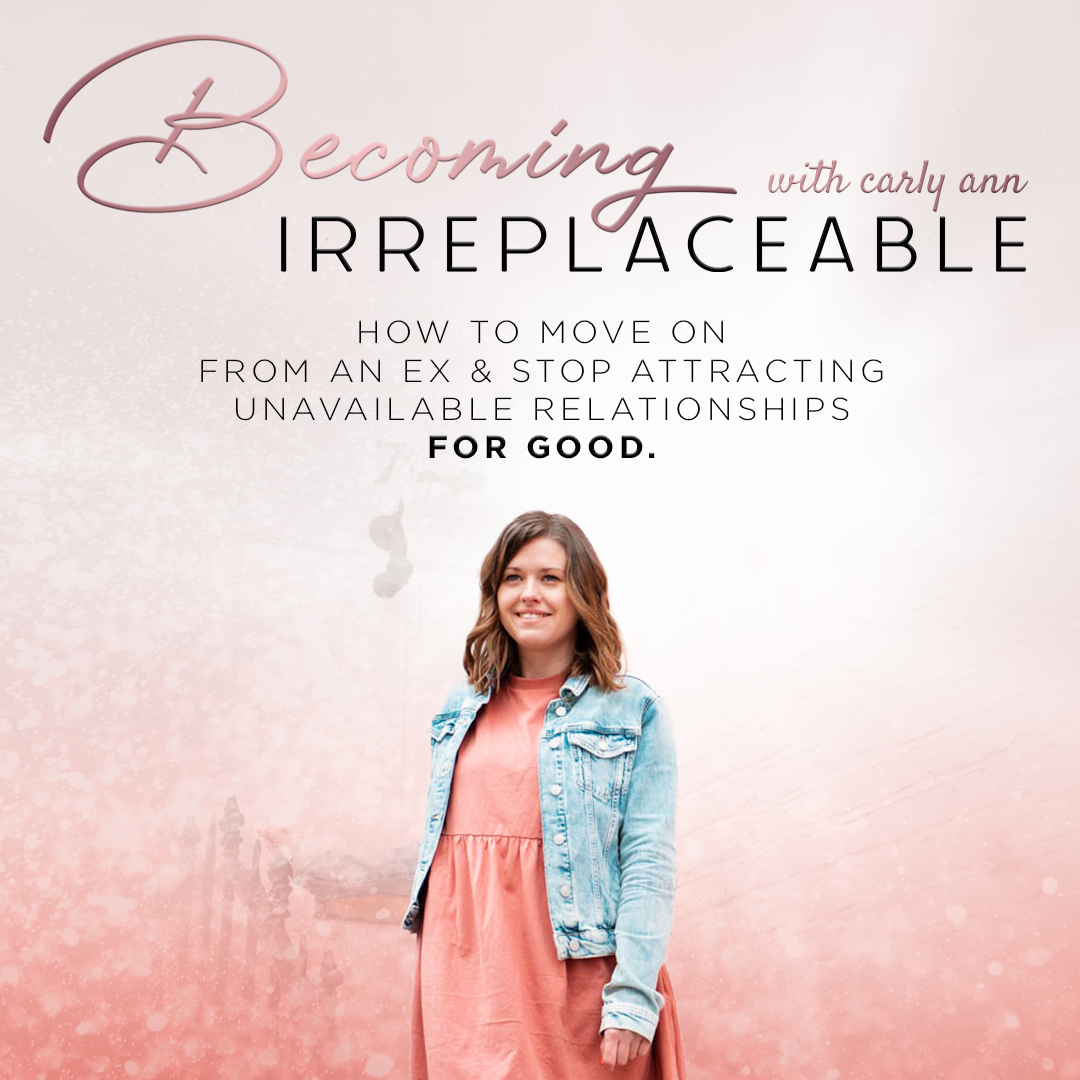 TESTIMONIAL
"What I gained from the program is firstly, not allowing an ending relationship to impact my self worth; knowing that the two things are completely separate.
Secondly finding more joy in doing things by myself rather than waiting for someone else to do them with
Carly Ann is bloody fantastic! Carly Ann is your biggest cheerleader and believer. She's so passionate and you really feel like she gets you!"
- Kate, Becoming Irreplaceable founding member 2020
WHO IS THIS FOR?
✓ If you want to heal your relationship with love & dating
✓ If you want to have plans and be without your friends without being distracted by thoughts of your crush and/or ex

✓ If you want to be free from exes and people from the past so you can make space for the new (and better!)
✓ If you want to attract more joy, fun, & realness to your love life
✓ If you want to go deeper into the healing journey because you feel called to this work
✓ If you want to be less triggered by couples, love, being single, and Friday nights alone
✓ If you want to change for yourself & not prove anything to anyone else
✓ If you want to upgrade the people she is attracted to
BECOMING IRREPLACEABLE IS ONLY FOR YOU IF:
1. You are willing to raise your standards for yourself
2. You are ready to turn information into action
3. You value your happiness more than these painful relationships
What Is Included?
♡ 8 weekly group coaching calls - including 1:1 check in support, teaching, & Q&A

♡ 2 Bonus calls (making it 10 weeks in total)

♡ Cheerleaders: The bonus weeks give you the chance to meet your team of CHEERLEADERS so you can feel supported and part of a team over the next 8 (10!) weeks
♡ Combination of weekly educational resources, worksheets, and exercises to help you regain control of your mind, body, & soul (handpicked by me based on what I know works)

♡ Access to a group chat for inspiration, support, and accountability

♡ Letting go and cord cutting ritual

♡ Calling in healthy love guided visualisation & meditation

♡ Introduction to Breath-work

8 PILLARS & TOPICS COVERED:
The following topics use a blend of carefully thought out practices; including cognitive behavioural theory, attachment theory, intuitive body coaching, mindfulness therapy, and inner child work. In the sessions, I will outline what each of these interventions are in more detail.
I have tried to outline each pillar simply so you know what to expect from the course:
PILLAR 1: Understanding Your Beliefs & Thoughts
We are going to look out how your mind-set & thoughts impact your choices and daily experience.
If you think you are not good enough, there are no good ones left, you are being left behind, and blame all break-ups on yourself - week 1 is just what you need!
We will work to change your view yourself, love, dating, & the people who leave so you can feel better
Pillar 1 includes:
⭐ Identifying 4 most common patterns people who struggle with love & dating fall into
⭐ The key questions to ask yourself when your thoughts spiral and you detach from reality
⭐ How to challenge your thoughts and get to the root problem with a method you can use with any life situation
⭐ Clearing the mental blocks that stop you from being open to NEW love & feeling hopeful
PILLAR 2: Learning to Regulate Yourself When Emotion Takes Over
We are going to look at an overview of how your emotions highjack your personality emotions when you like someone - leading to overthinking, anxiety, low mood, feelings stuck, and more.
If you end up withdrawing, numbing, calling in sick, crying uncontrollably, and feeling despair - week 2 is going to help you out of this.
Pillar 2 includes:
⭐ Advanced coping skills allowing you to separate from your emotion so you can make wiser choices in love
⭐ Learning how to manage the conflict between what you know is best but how you feel about a person
⭐ Core Methods to help you in the moment when emotion highjacks your better judgement
⭐ A step-by-step plan of what to do after an emotional episode where you are afraid you've ruined a good thing
PILLAR 3: Coping With Triggers
Here we are considering triggers you know about and ones that come out of the blue.
If you ever feel like you are doing well and then get knocked to the floor by thoughts (or proof) of them moving on, a lonely Friday night, bumping into your ex, or meeting another unavailable guy - week 3 is going to help you keep your head firmly above water.
Pillar 3 includes:
⭐ Understanding triggers and their individual influence on you and your ability to let go/move on
⭐ A pre-written Check-list for you to use when you a trigger comes out of of left field
⭐ A unique take on the no-contact rule and how you can make it (finally) work for you
⭐ A roadmap to developing lifelong skills for coping with your triggers when it comes to attachment and relationship trauma
PILLAR 4: Raising Your Standards & Sticking To Boundaries
We have to get firm and clear so you can begin to reparent the part of you that is engaging in these painful patterns - by looking at your current standard and boundaries, identifying where it goes wrong, and getting clear on what it takes to have someone show up for you.
If you wind up going back on your word, putting people on pedestals, lowering standards, constantly changing your mind, and sacrificing your own needs for someone else - week 4 is going to see to it that you connect with the inner strength I know you have.
Pillar 4 includes:
⭐ Digging deep on the fears & why people sacrifice their needs, change their mind, and keep going back to crumbs
⭐ Ground rules for raising your standards and sticking to them
⭐ The best practices & techniques to help you express what you want clearly and without appearing "needy" or "too much"
⭐ The one key standard to use when you can't let go or move on
PILLAR 5: Looking at "The Work": Trauma Responses, Attachment Difficulties, & Abandonment Wounds
By now we have created a safe space to go deeper in your learning about trauma and abandonment responses - we will relate this to your relationship experience and strengthen your foundations for healing the root problem and "original" heart-break that keeps you stuck on the wrong people and repeating patterns today.
If you struggle to trust, get close, have meaningful sex, be yourself, live in the current moment - week 5 is going to allow you to peel back the layers and begin to meet your truest self.
Pillar 5 includes:
⭐ Up-to-date teachings on trauma and abandonment recovery so you can have healthy relationships
⭐ Space to own your story and understand why you have had the relationships you have
⭐ Exercises to promote healing & inner child connection
⭐ A Live Inner child meditation to help you create your own healing plan
PILLAR 6: Rising Again When Life, Dating, & Love Knocks You Down
This is when we look at the moments in life that you cannot control, the ones that leave you feeling powerless and wanting to give up on love completely
If you get hit hard (and deeper than other people you know), then facing heart-break, rejection, ghosting, and another unavailable guy can seriously knock your self-esteem - Week 6 is where you learn how to protect your self-worth always
Pillar 6 includes:
⭐ Delving into what you can do to free yourself from conditioning and pain when you are in the thick of a situation you cannot change or understand
⭐ How to release self-rejection and sabotage when life takes a difficult turn
⭐ A guide on nurturing your self-esteem when your heart is broken
⭐ How to reach again for hope when you feel like you cannot take another hit
PILLAR 7: Choosing Someone Secure
This is where we get clear on who is best for you to date if you are serious about having a meaningful relationship. We will deep dive into why you are attracted to your ex/unavailable people and what it takes to re-build who you are desire.
If the "nice guy" gives you the ick, you are afraid of giving up chemistry, and not sure how to spot the signs of an unavailable guy - week 7 is going to clear things up for you
Pillar 7 includes:
⭐ Understanding chemistry and how to create it with the right person
⭐ 4 questions and methods you can follow to discover if the person you are dating is emotionally available (no games necessary)
⭐ You framework to finding the available guy attractive
⭐ Your own step by step guide to showing up as secure on dates & in relationships using my own unique SECURE method.
PILLAR 8: Following Your Fire & Designing Your Extraordinary Life
This is where I teach you why having a purpose is essential for Becoming Irreplaceable, you are ready to create something extraordinary and live a turned-on life - one that lights you up and stops you from letting anyone with a low vibe bring you down.
If you don't know who you are, repress parts of you, struggle to experience really joy, and play small - week 8 is going to ignite that inner fire so you can live your life to full potential and happiness.
Pillar 8 includes:
⭐ 9 pillar method to living a happy life on your terms
⭐ Accountability and support plan to help you move out of your comfort zone for a fuller experience
⭐ Awakening your irresistible, playful, and sensual self
⭐ Simple but powerful exercise to align you with the right person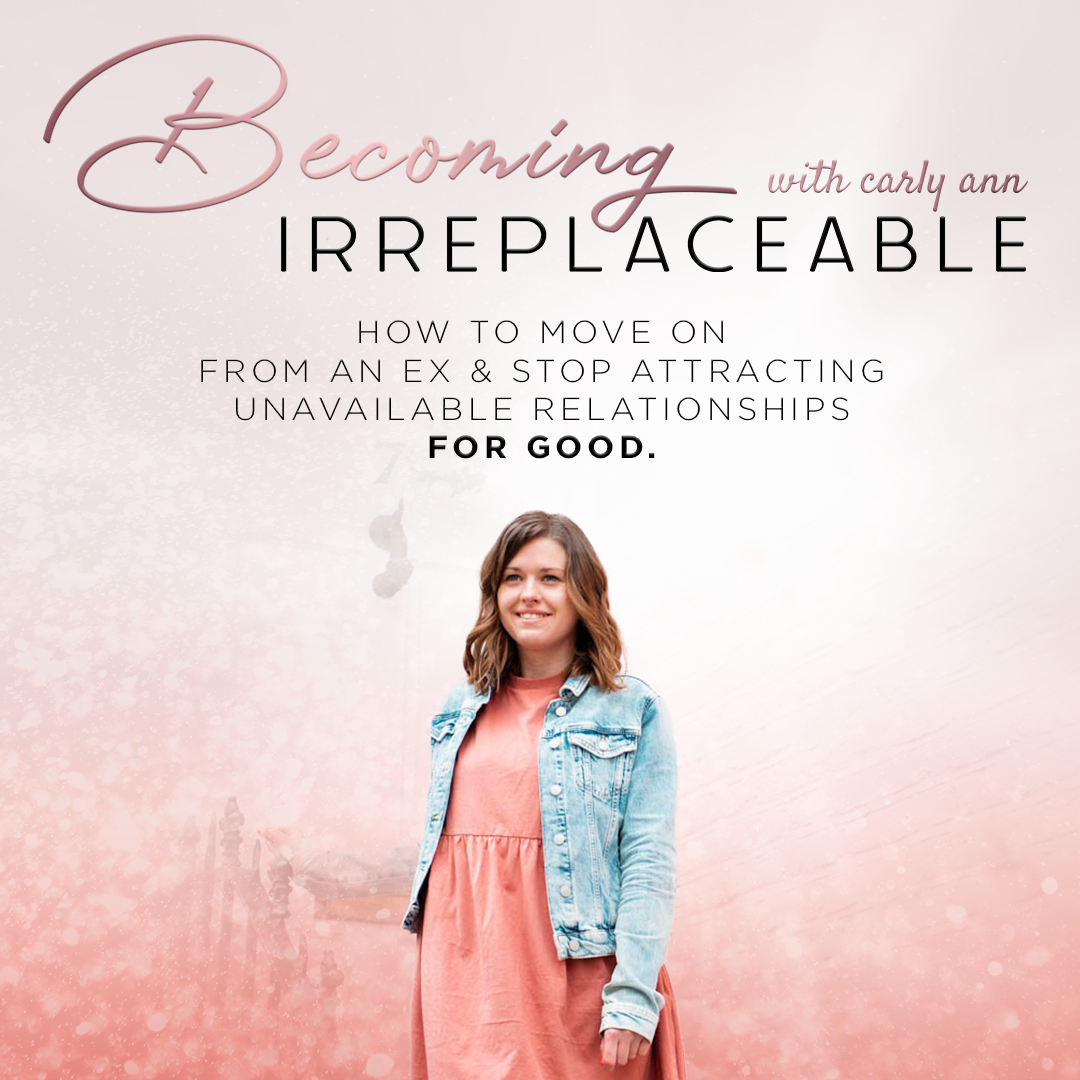 TESTIMONIAL
"Investing in myself was scary. I had never done it before and was even skeptical about what I would gain. Finishing the course, it's jam packed with resources, tools, a supportive place to share, and individual coaching - definitely worth the money, go for it!"
- Becoming Irreplaceable founding member 2020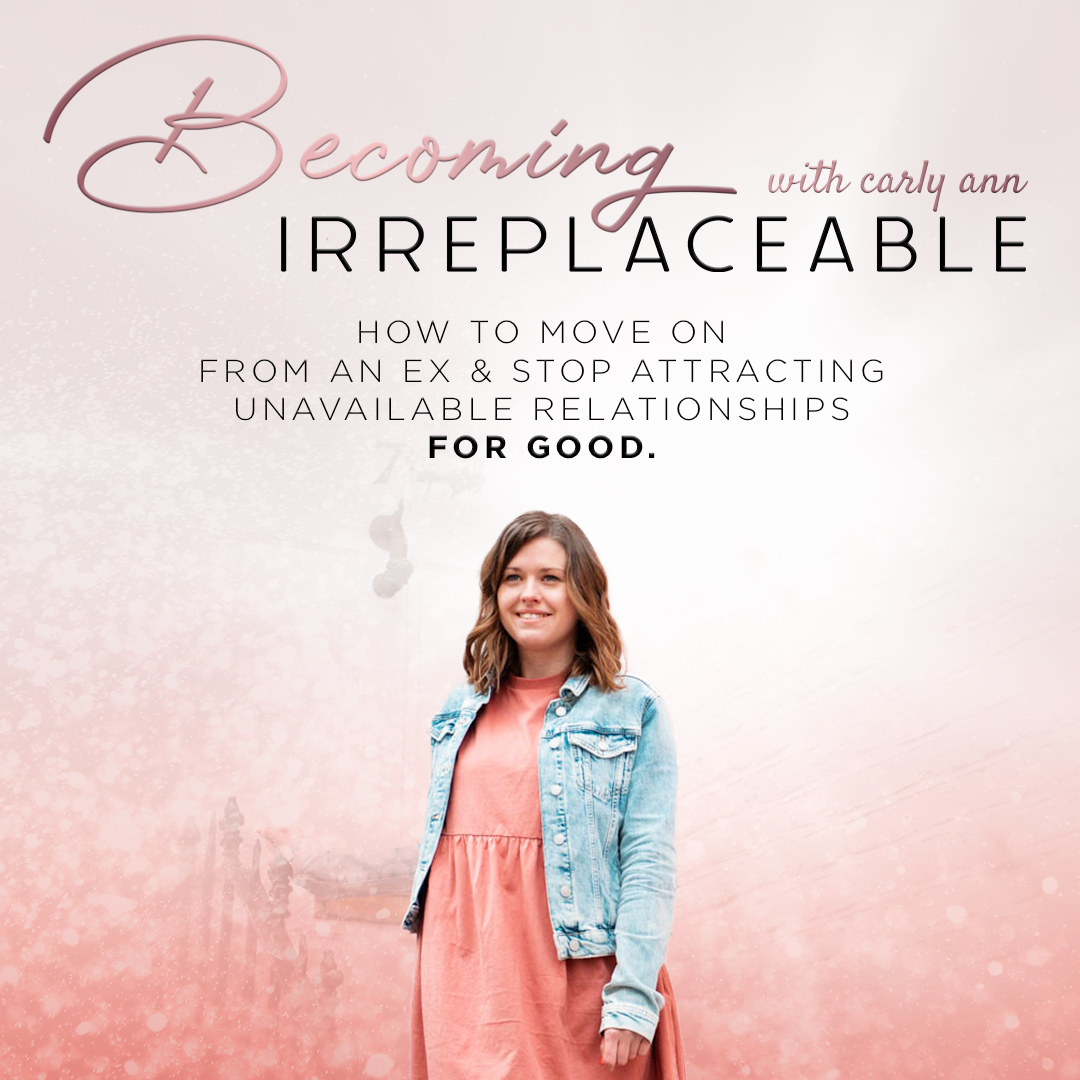 TESTIMONIAL
"I gained a lot of clarity around what makes a person 'irreplaceable'. Prior to the course I really struggled trusting myself, was a people pleaser and felt comfortable fitting into the crowd to feel accepted and avoid rejection. But afterwards, this has been thrown in the bin! It feels so wrong to act this way now, and I would much rather be my expressive self and be rejected, rather than suppress myself and be accepted by people who are not my people.
I am also now way more aware of what I bring to the table and any one off mistakes or disapproval's from others does not define me or lower my worth, nor is that something to worry about. I will still get triggered and be tempted to slip into these old habits, but with the tools provided by Carly, I'm now much better at stepping in and keeping myself on track"

- Becoming Irreplaceable Member 2021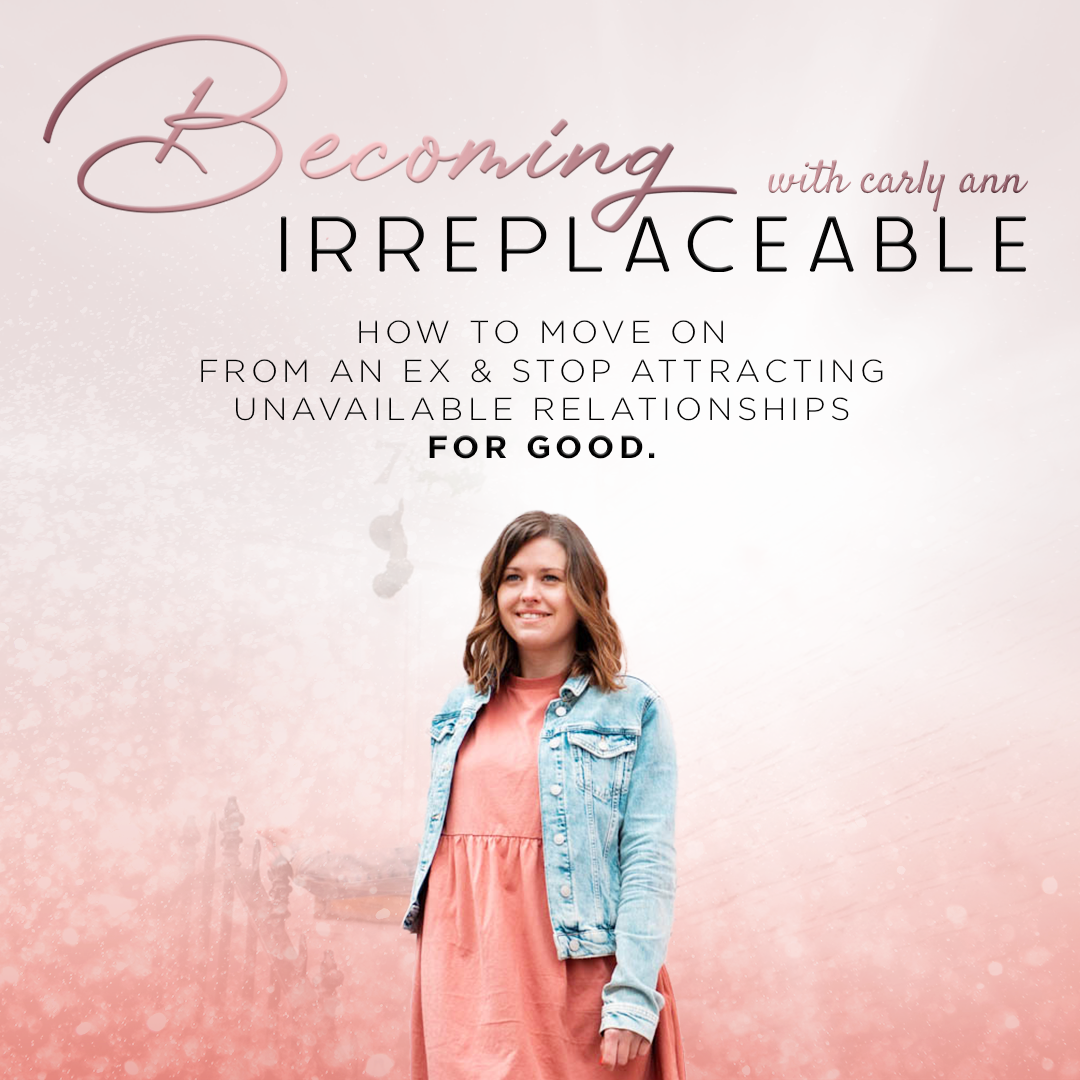 TESTIMONIAL
"Becoming Irreplaceable been so wonderful for me. I feel like I know myself better and feel much more aware of my own worth.
Since completing the course I have been accepting invitations to a date, not having a complete breakdown over being ghosted, writing a book and looking to put it out in the world (not directly related but I know myself better and feel more confident to be authentic)"

- Becoming Irreplaceable Member 2021

Q&A
When does Becoming Irreplaceable start & end?
The first bonus week is Monday 6th Sept.
The last (very special!!!) session will be on 15th Nov.
(including bonus weeks & mid-way self-care break)
What time are the coaching calls?
Mondays at 7pm UK time
What if I can't make the LIVES?
You are still very welcome to join us. I have had a previous member that was not able to make any LIVES and she still engaged in the support group and had a brilliant experience on BI.
All replays will be available to you after the LIVE session
How much time do I need to commit?
Definitely 2 hours for the weekly call (LIVE or catch up)
+ at least 1 hour for the written exercises
This will require on-going input to implement into your daily life. So will be about adding tools into your day rather than taking time out
Do I need to be single or looking for a relationship?
To be honest - if you relate to my work, the desire to feel irreplaceable and feel determined to become secure in love - you will get so much from this course
Previous members have been mostly single, newly in a relationship, or trying to save a relationship
Why is it high cost?
Because people are more likely to commit, change, and make time for courses when they experience the energy that comes with spending money on self-development
+ this a healthy relationship & your self-esteem is invaluable
Can I pay over four months instead of three?
Yes. Just contact me by emailing [email protected] and ask
If you are inside my Follow Your Fire Membership I'm happy to extend to a 5 month payment plan
BACKGROUND & WHY COACHING YOU IS MY SOUL'S PURPOSE
Hello..I am Carly Ann!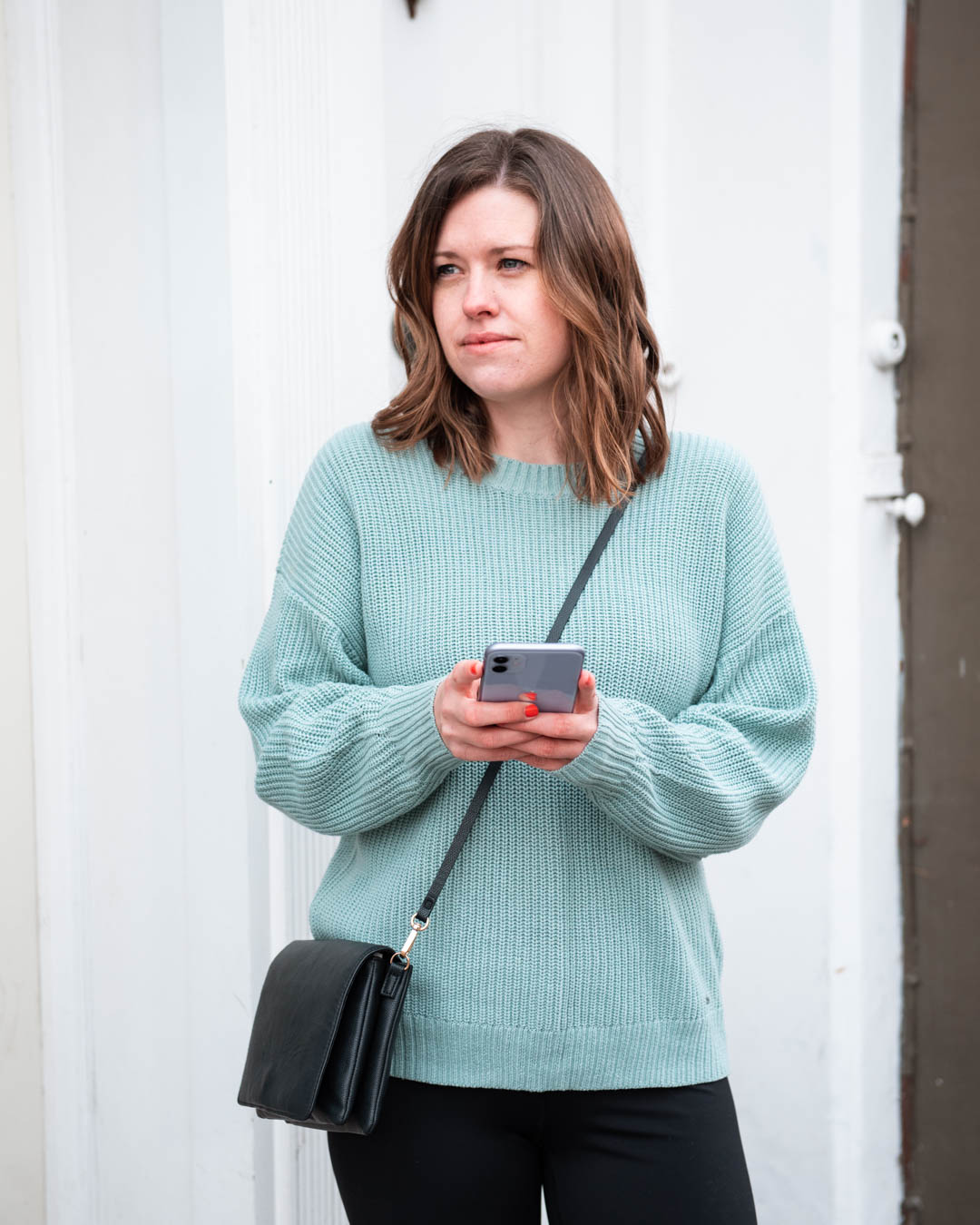 I know what it feels like when you are take over by the anxiety, the worries, the "ick", the pain, the obsession.
I know what it feels like to be "replaced" in a week - I know how those old thoughts creep back and tell you it is your fault, that you are unlovable.
I know what it feels like when you wake up from an insecure episode and realise you have pushed someone away, and now you will never know if this could have worked out.
I know what it feels like to feel totally out of control when anxiety, insecurity, and jealousy takes over you whole body.
Then comes the convincing argument that this has happened so many times - it must be your fault.
I have been been there.
I have put my happiness, my worth, and my dignity firmly into the hands of sources and people outside of me.
I have promised myself time and time again that I am done, that I've done the work, that this time is different.
And then I woke up again on the bathroom floor.
Knowing with every cell in my body that I deserved more than this person. That quite frankly, I was too good for this person. They are not ready for the kind of love I am ready for.
Yet here I am, pining for them, convinced that this one person held the key to my ability to feel OK again.
A lost love. A lower standard. A need. A pain. An ache.
And what about the things we do? And how dark our thoughts can go?
I couldn't keep doing it. I just couldn't. This couldn't be it, could it? Did everyone find love to be this hard? Was this normal? Why did I keep losing myself every time I met someone?
I didn't' want it.That wasn't for me anymore. I was waking up...
That niggle, the whisper, my intuition...an inner FIRE was burning.
The pain had got too much. And you know what happens when we get to that stage?....
We commit to the journey of self-discovery and healing our wounded hearts... right?
Combining my professional background with personal experience - I went on a mission to discover how a girl can become a woman - and break free from the boys.
Because let's face it, life is short, and precious... I'll be damned if I'm not going to give myself the best shot at a real love in this lifetime!
You know, we have already had so many years stolen from us. Years when we should have felt safe. When we should have felt like we belonged.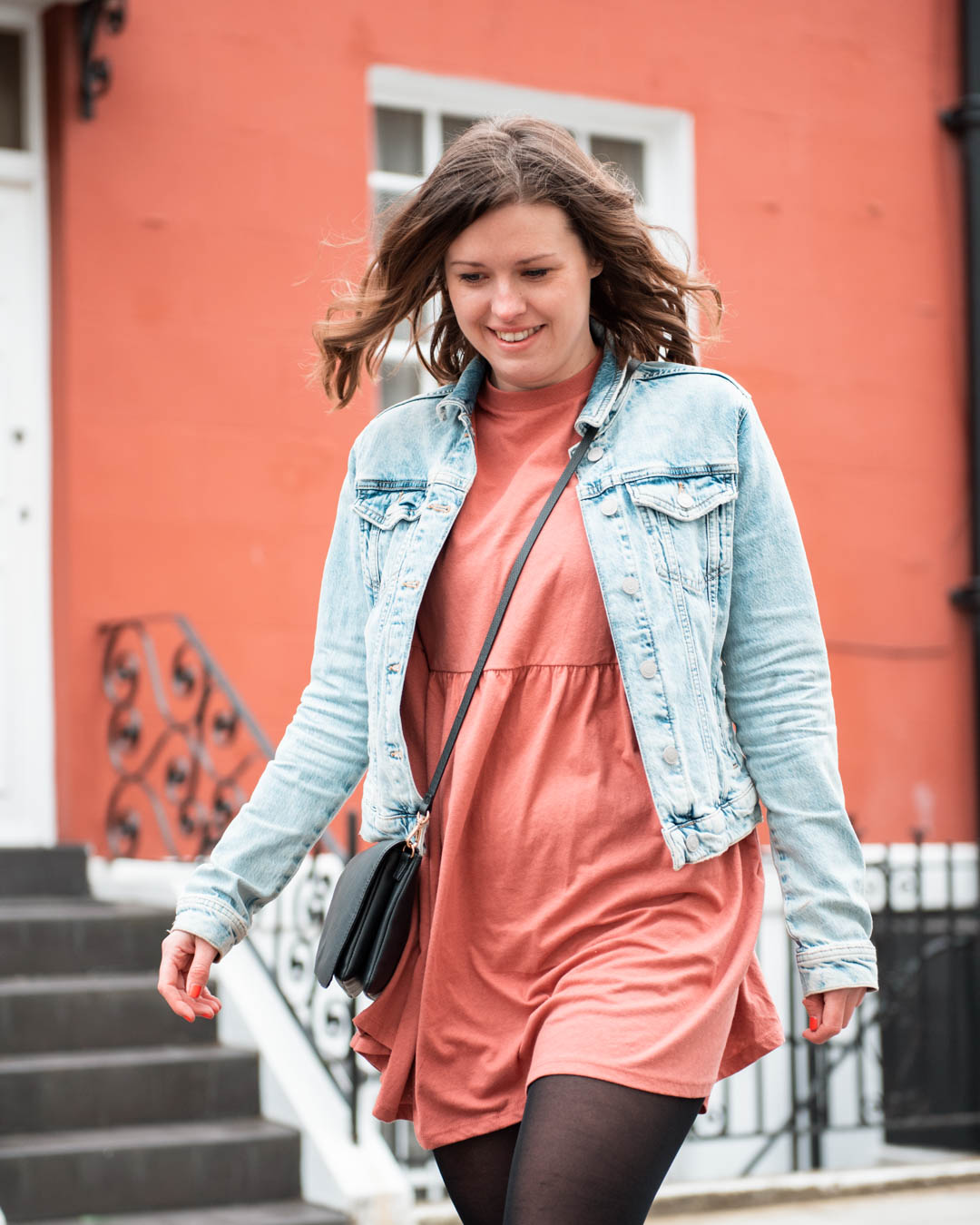 When we should have known that we are IRREPLACEABLE.
The reality is, if you struggle to feel secure in a relationship, you are going to have to learn. That is where this program comes in.
Because...
There is a reason you get stuck in heart-break and on your ex - and it is not because they are so special.
There is a reason unavailable guys feel safer to you than someone secure - and it is not because of the chemistry.
There is a reason why you lose a sense of self when you are dating - and it is not because you are just having fun.
There is a reason you constantly check their social and think about them meeting someone new - and it isn't because you are interested.
There is a reason you think this person is the one - and it isn't because they are the one.
I am going to teach you why love makes some of people feel so crazy.
I believe fully that you are deserving and capable of having a real, meaningful, and extraordinary kind of love,
One where you are heard, where they want to see you, where you are made to feel safe, and you are never ever told you are crazy.
In your darkest moments - you are loved.
The only thing I don't know? I don't know when & I don't know how you will meet,
But I believe, if you spend this time doing the work... you will be closer than if you keep chasing your ex or people that are not ready for what you are ready for.
If you are ready, and you are serious - I am here to show you the how. To provide the knowledge, the tools, the methods, and the support... you must be the one to do the work for yourself.
I have done the work for me.
My clients before you have done the work. Some are now in long term relationships, some are navigating single life and finding the JOY in every day, some have started a business, some have found their passions, and some are continuing to discover their true selves,
I have tried, tested, experimented and I have narrowed your healing down to 8 pillars.
8 pillars to feeling secure

8 pillars to overcoming an anxious attachment style

8 pillars to navigating the pain & confusion of dating

8 pillars to letting go of your ex to stop attracting unavailable relationships
Until I reached my "enough is enough" stage.
That is when it all changed.
I have been to the depths of shadow work, healing work, happiness methods, and inner child work.
I have got to the place I didn't think possible.
And I am inviting you along for the journey.
I know from first hadn't experience and second hand (through my clients) what it takes to break the pattern of unavailable relationships so that you can choose yourself instead.
So that you can get to the place where you have let go of the old and are able to welcome in the kind of relationships you say you want.
Your Instructor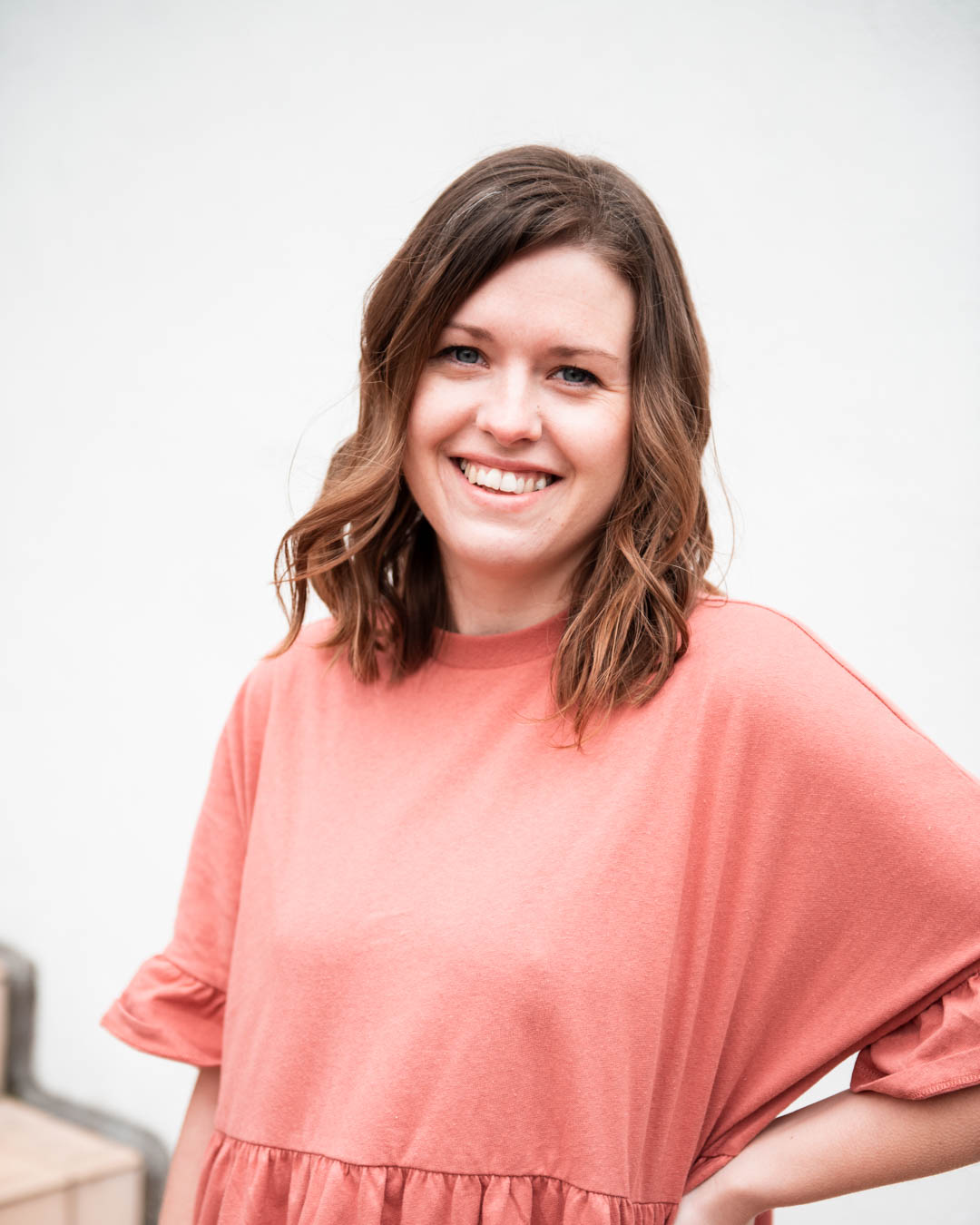 Carly Ann is a Self-Esteem & Relationship Coach, Podcaster, and Recovering Insecure Dater who is passionate about helping other women reclaim their worth in life & love.
Determined to put an end to you feeling 'too much', 'crazy', or 'needy' by giving you the inside scoop on why love makes you feel that way and how you can break free from people who enhance your insecurities.
Carly has a degree in Psychology, spent over ten years working in a variety of complex settings (from prisons & hospitals to recovery centres), qualified in LI Cognitive Behavioural Therapy, spent the last 5 years delivering Psychological Therapies for the NHS, and is currently training as an Intuitive Body Coach to support people heal trauma in the body.